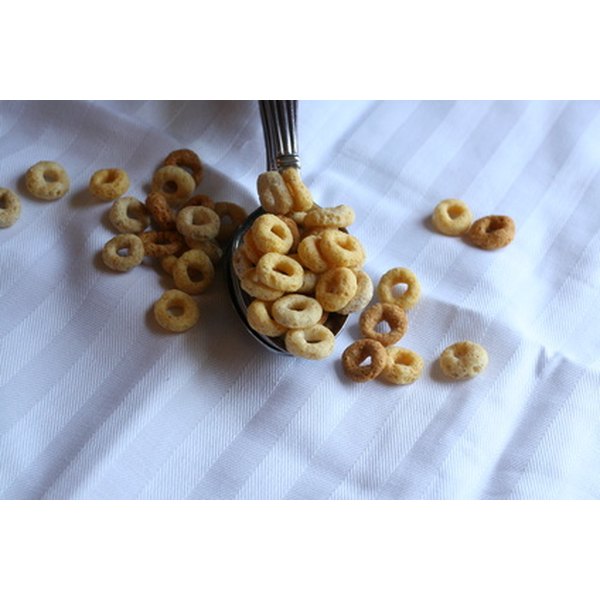 Doughnuts might sound delicious first thing in the morning, but your body will thank you for pushing them aside and picking up a piece of fruit or wheat toast instead. Avoid the salty trap of breakfast burritos and bacon-laden egg sandwiches in favor of fortified cereals or oatmeal.
Dietary Recommendations
Before choosing your breakfast foods, consider the U.S. Department of Health and Human Service's Dietary Guidelines for Americans. The closer you align your diet with these recommendations, the more vitamins, minerals and nutrients you'll have — along with less fat, calories and salt. For the average 2,000-calorie diet, you should have 2 cups of fruit per day, 3 oz. of whole grains and 3 cups of fat-free or low-fat dairy products. Plan on consuming at least some of these foods during breakfast through menu items like fresh fruit, yogurt and whole-wheat toast.
Low-Sodium Choices
The Dietary Guidelines recommend you eat less than 2,300 mg of sodium daily. It's hard to stay within that limit when you eat fatty, high-sodium foods like bacon, sausage or fast-food sandwiches. According to the Center for Science in the Public Interest, three links of Johnsonville Original sausage links contain 490 mg of sodium. If you grab a McDonald's egg, bacon and cheese biscuit, you're getting 1,230 mg of sodium — just over half of your daily maximum. Foods that are low in sodium also tend to be lower in fat and calories. Skip the salt and you're likely to skip unnecessary fat grams as well.
DASH Diet Breakfasts
In "Your Guide to Lowering Your Blood Pressure with DASH," the U.S. Department of Health and Human Services presents a week's worth of low-sodium, nutrient-rich menus. Healthy breakfast ideas include enriched breakfast cereals with low-fat milk, fruit juice, fresh fruit, instant oatmeal sprinkled with cinnamon, whole-wheat bagels with 1 tbsp. of peanut butter, whole-wheat toast with 1 tsp. of margarine, fat-free yogurt and low-fat granola bars.
Using Pantry Items
You can also use items already in your fridge or pantry to create a healthy and nutritious breakfast. According to the Mayo Clinic, you can top healthy oatmeal with good-for-you almonds or dried berries. If you're accustomed to eggs, the clinic suggests filling a whole-wheat pita with hard-boiled eggs. Skip scrambled or over-easy eggs — it's too tempting to add salt, either from the shaker or in the form of sodium-laden hot sauce. Use whole-grain pancake and waffle mixes and top them with fresh fruit. In place of a burrito, wrap a corn tortilla around veggies, salsa and low-fat cheese.
Eating Out
When you're faced with a diner menu full of bacon, pancakes and sausage, the American Heart Association suggests you turn to egg-white omelets, lean ham, whole-wheat waffles and hot cereals or grits. If you're having toast or bagels, make sure they're whole wheat and topped with jam or cottage cheese instead of butter. Ask for fat-free or low-fat versions of milk, yogurt and cream cheese to keep your diet on track.