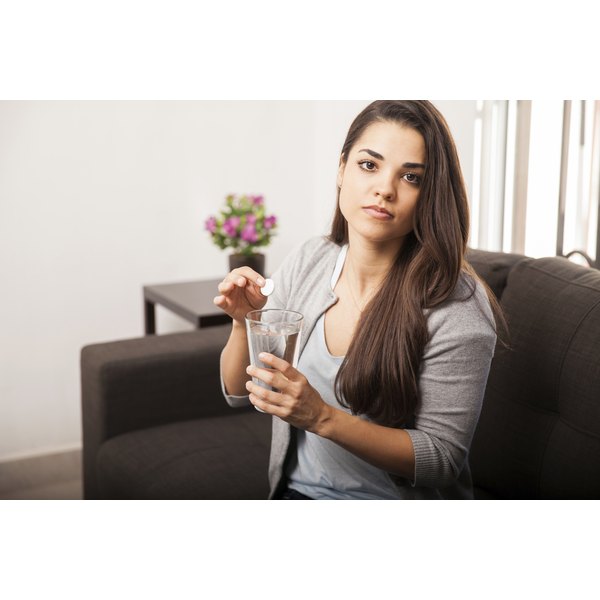 Alka-Seltzer cold medications can temporarily relieve the symptoms of the common cold, including headaches, a runny nose, nasal and sinus congestion, sneezing, a sore throat and fever. However, using these medications also may pose risk, especially in individuals with certain lifestyles or medical conditions. People should take the time to review the potential risks of taking Alta-Seltzer cold medication products before use.
Drowsiness or Dizziness
Alka-Seltzer Plus cold medications may cause drowsiness or dizziness, according to the official website of Alka-Seltzer. People taking these products should not drive or operate heavy machinery until they understand how they affect them to avoid dangerous accidents.
Drug Interactions
Alka-Seltzer Plus cold medications may increase the effects of alcohol and other depressants. It also may interact negatively with some prescription medication, such as MAO inhibitors, anticoagulation medications, sedatives, tranquilizers, gout medications or arthritis medications, according to the Alka-Seltzer website. Those who wish to take Alka-Seltzer cold medications should talk to a doctor or pharmacist about their questions or concerns about potential interactions before using the products.
Stomach Bleeding
Aspirin, one of the ingredients in Alka-Seltzer cold medications, may cause stomach bleeding, particularly in individuals who consume more than three alcoholic beverages a day, according to Alka-Seltzer's website.
Allergic Reaction
Some individuals may experience an allergic reaction to Alka-Seltzer cold products. Hives, difficulty breathing or swelling of the throat, hands, face or lips may be an indication of an allergic reaction to this medication, according to Drugs.com. Those experiencing this reaction should seek emergency medical attention.
Pregnancy, Breastfeeding and Children
Women who use Alka-Seltzer cold medications when pregnant or breastfeeding may cause harm to their babies. These women should talk to a doctor about the benefits and risks of using these products. In addition, it is unclear if Alka-Seltzer cold medications are safe for children younger than 12 years old. The Alka-Seltzer website states that children younger than 12 years old should not use these products.
Other Medical Complications
People with certain medical conditions may experience complications if they take Alka-Seltzer cold medications. These include people who have a history of asthma or lung problems, difficulty urinating, heart problems, prostrate problems, high blood pressure, glaucoma, thyroid problems, liver or kidney problems, sleep apnea or other sleep issues, ulcers, adrenal gland problems, seizures, stroke, or a blockage of the stomach, intestines or bladder, according to Drugs.com. Individuals should see a doctor if their pain, cough or nasal congestion lasts longer than seven days or if their fever lasts longer than three days, as this could be a sign of a medical complication.