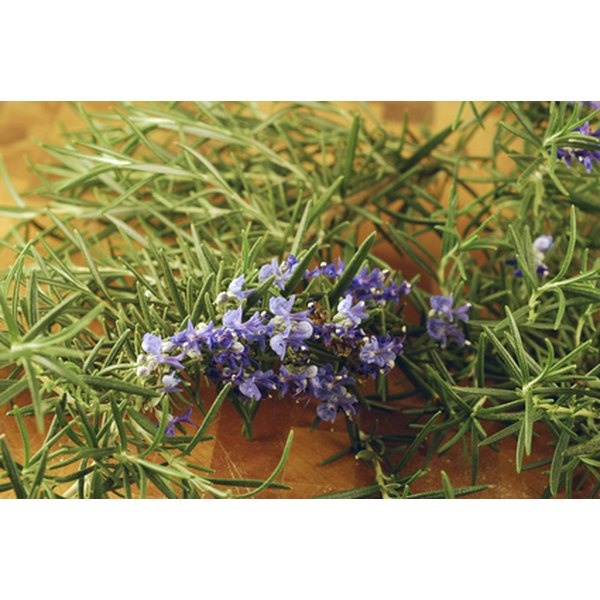 Those seeking to boost their concentration or mental focus should look to certain natural herbs. While no herb is clinically proven to give you a brighter clearer mental state, there are some that are showing promise. Before starting any herbal treatment or remedy, please check with your doctor first.
Rosemary
Rosemary is mainly a kitchen seasoning but is also used for circulatory support, muscle pain and for memory improvement. According to the University of Maryland Medical Center, rosemary is used in aromatherapy to boost concentration levels. There is some allergy risk and potential side effects can be vomiting, spasms, miscarriage, pulmonary edema and coma.
Ginseng
Ginseng has been a traditional Chinese remedy for thousands of years. Clinical testing has shown promising effectiveness for high blood sugar, immune system boosting and heart conditions, according to Medline Plus. It also reduces oxidation of brain tissue, leading to better mental clarity and focus. There is an allergy risk and potential side effects include rapid heart rate, fever, headache, dizziness, chest pain and heartburn.
Ginkgo
Ginkgo is a top-selling U.S. herb, according to Medline Plus, and is being clinically tested for its use in mental function and cerebral insufficiency. It is showing promise in cerebral insufficiency, a condition that has poor concentration and confusion as symptoms. More testing is needed on its effectiveness for memory impairment due to age, dyslexia, mental performance and other brain functions. There is an allergy risk plus potential side effects of nose bleeds, intestinal issues, nausea and headache.
Gotu Kola
Gotu kola has the plant and leaf used in herbal remedies both internally and topically. It treats hypertension, memory loss, venous insufficiency, wounds, scars, and burns. According to the Memorial Sloan-Kettering Cancer Center it may interfere with cholesterol lowering drugs and have the potential side effects of headache, contact dermatitis and photosensitization. High amounts can result in toxicity, of which symptoms include hyperglycemia, sedation and hyperlipidemia.