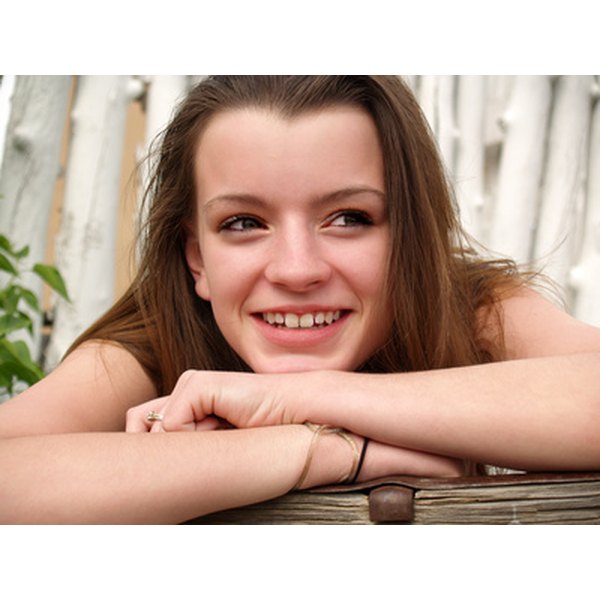 Don't let dark circles under your eyes wreak havoc on your appearance. The Mayo Clinic defines dark circles as round, uniform areas of pigmentation beneath each eye. Whatever the cause, there are ways to combat them. Try getting more sleep, drinking more water, exercising regularly, eating a healthier diet or using home remedies. Another way to stave off or treat dark cycles under the eyes is with the use of vitamins.
Vitamin K
Vitamin K was discovered by Henrik Dam while he studied hemorrhagic disease in chickens during 1930 to 1933. Vitamin K is a fat soluble vitamin that helps with the clotting of blood. Vitamin K prevents skin from appearing darker by stopping the seepage of blood from tiny vessels in the thin skin under the eyes, according to Bukisa.com. Vitamin K is added to topical and prescription eye creams to reduce dark circles. Foods rich in vitamin K include spinach, kale, broccoli, avocados and cabbage.
Vitamin E
Vitamin E is a fat soluble vitamin and a powerful source of antioxidants that works to protect cell tissues from free radical damage, environmental pollutants and the ultraviolet rays of the sun. Vitamin E capsules may be used to treat dark circles under the eyes. Wash and dry your face. Clip off the tip of a vitamin E capsule and use your fingers or a Q-tip to apply the liquid vitamin E under the eyes. This will soothe, moisturize and work to heal the dark circles under the eyes. Foods rich in vitamin E include fish, eggs, milk, nuts and vegetable oils.
Vitamin C
Vitamin C, or ascorbic acid, is a water soluble vitamin. It is a potent antioxidant that helps to promote tissue growth and repair and the production of collagen for skin rejuvenation. Topical vitamin C is unstable, according to Bukisa.com. There is a form of vitamin C, L-ascorbic acid, that is combined with vitamin K in some eye creams, to treat dark circles under the eyes. Foods rich in vitamin C include cabbage, cauliflower and spinach as well as limes, lemons and guavas.