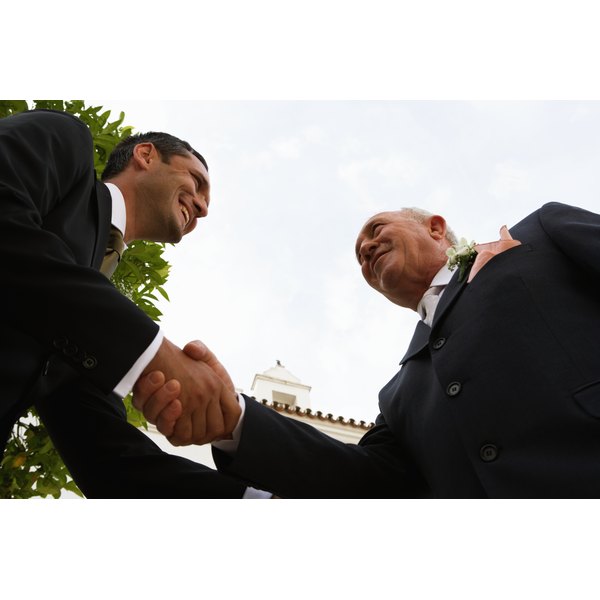 People skills are important from a very young age and become increasingly necessary as you get older. Every aspect of life—including making friends, finding a job and enjoying a successful relationship—depends greatly upon your ability to get along with others and present a positive image of yourself. Relationships with friends, significant others, bosses and employees are built upon social skills.
Child Development
Children begin to develop social skills at a young age from observing and interacting with their parents, siblings and peers. Failure to assimilate to social situations on a basic level by age 6 can indicate that a child will have difficulty through adulthood, according to studies summarized by AtHealth.com. Social problems early in life can make it difficult for children to make friends, which can then lead to deepening exclusion throughout school. Feelings of acceptance or rejection have a strong impact on children's confidence and happiness that will shape them in their adult lives.
Entering a Career
When being considered for a job, intrapersonal skills trump education and even experience in the field according to the International Association of Administrative Professionals (IAAP). In a career setting where many people are working closely together, the ability to get along with coworkers is essential, whereas tangible skills can be taught. This skill is often judged in a short amount of time during an interview, making strong people skills crucial to securing your desired position.
Advancing a Career
Intrapersonal skills maintain their significance throughout any career, especially in managerial positions. Dr. Patricia A. Wheeler notes that 90 percent of executive failures can be attributed to intrapersonal incompetency. This includes poor communication, inability to motivate others and failure to recognize others' interests. Weak people skills may eventually lead to unhappy employees which cripples a work ethic and affects the business when work does not get done on time.
Intimate Relationships
In intimate relationships people skills are complex in that they involve constant in-depth communication, understanding and acceptance of others' traits and knowing oneself. The inability to master these social skills relates to loneliness in young adults, according to a study at the University of New Brunswick. Loneliness can stem from difficulty in initiating a relationship or refusal to end a poor relationship.
Raising Children
People skills come full circle if you decide to have children or work with children. Not only is it necessary to teach children how to successfully interact with others, but you also must revert back to their level of understanding. The ability to interact successfully with a significant other, friends, coworkers, strangers and children involves intricate skill.