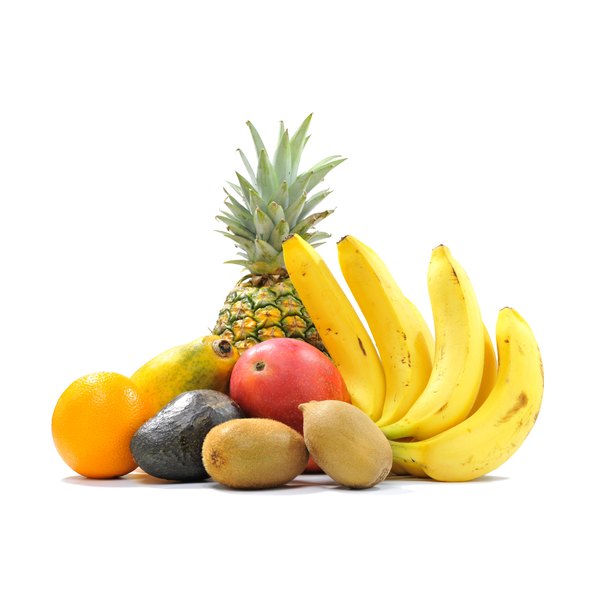 Acid facial peels are cosmetic procedures used to reduce the appearance of fine wrinkles, blemishes and sun damage. Peels can rejuvenate and refresh facial skin. To address different skin problems, acid facial peels performed in a dermatologist's office can vary by type and acid concentration strengths. For light or superficial acids peels, doctors can use alphahydroxy acids that include lactic, glycolic or fruit acids. However, you can make acid facial peels at home from a variety of fruits that include pineapple and papaya.
Place fresh papaya and pineapple in the blender and puree the fruits. Transfer the mixture, which should have the consistency of a paste, into the glass bowl. Use only fresh fruit to make this acid facial peel.

Pour the raw honey into the papaya and pineapple paste, stir the mixture in the bowl with the spoon and then set the bowl aside.

Pour warm water into the large bowl, wet the towel in the water and squeeze any excess water from it.

Place the damp towel over your face for at least five minutes to open facial pores. Remove the towel and pat dry your face with a clean towel.

Dip the spatula into the pineapple and papaya mixture and use it to spread a thin layer of peel over the face. Allow the peel to remain on the face for at least 15 minutes. Avoid getting the mixture in your hair.

Wash off the peel from your face with cool water and then pat it dry with a towel. While the fruits used in this facial peel contain natural substances that can aid in skin exfoliation, the honey can have a moisturizing effect on facial skin, suggests the website Complete Skin Care Therapy.

Tip

You can use different variations of this facial peel recipe. For example, you can omit the papaya and use only the pineapple and honey.

Although there are different recipes for acid facial peels, papaya and pineapple peels are gentle and may be beneficial for most skin types.

Other fruits or fruit juices that may be useful for acid peels include lemon, orange, apple, peach, tomato and cranberry. However, the type of fruit used for a facial peel can be dependent on skin type. If you have oily skin, tomato may be beneficial. For dry skin, a papaya fruit peel may be a good choice.

Warnings

Before using any ingredients on your skin, do a skin patch test to ensure that there are no allergic reactions.