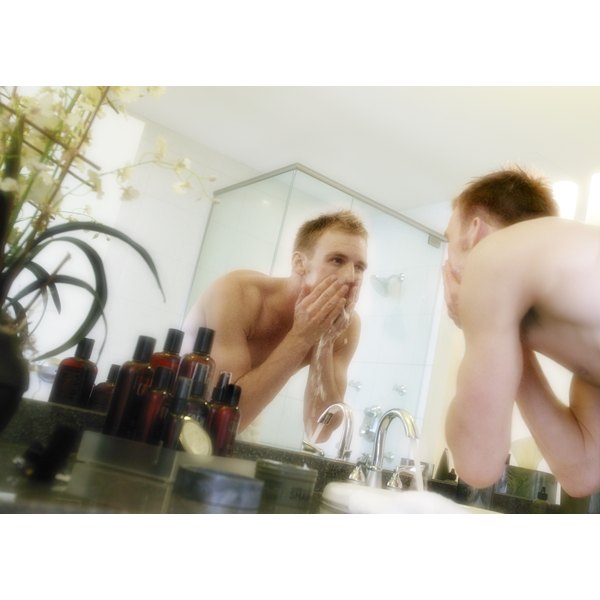 Red's a fitting color for lobsters and tomatoes, but not so much for your skin. Without aftershave lotion, though, you can end up with razor burn, unattractive bumps and serious irritation that can turn your skin red. Skip the store-bought aftershaves and make your own -- a lotion doesn't need a mile-long list of ingredients when just a few will do. Moisturizing ingredients, such as coconut oil and olive oil, hydrate skin after shaving -- and a dash of essential oil gives your aftershave an enticing aroma.
Combine 2 cups apricot oil with 1 teaspoon olive oil and 1 teaspoon coconut oil in a bowl. Add five drops of grapefruit oil, rose oil or lemon oil for fragrance, if desired. Stir well. Smooth a small amount of the lotion over skin after shaving; do not rinse.

Boil 2 cups water in a pot on the stove, then carefully pour the water into a glass jar or bowl. Add 2 tablespoons chopped rosemary and 2 tablespoons chopped calendula flowers. Let the herbs steep in the water for 24 hours, then strain them out and discard. Add 50 milliliters witch hazel to the herbal water, then mix in 2 teaspoons of tincture of benzoin or grapefruit-seed extract. Stir well and apply to skin after shaving.

Combine 1/4 cup coconut oil, 1/4 cup shea butter and 1/2 teaspoon jojoba oil in a small bowl. Add a few drops of lavender essential oil, bergamot essential oil or frankincense essential oil for fragrance, if desired. Blend well and smooth the lotion over skin after shaving.

Tip

Store any leftover aftershave in a sealed container; it will stay fresh for several weeks.

These aftershave lotions work for both men and women.

To make a shaving cream, combine 1/3 cup of coconut oil, 1/3 cup of shea butter and 1/4 cup of olive oil in a bowl. Whisk the ingredients until a lather forms. Smooth the mixture over skin and shave as usual.