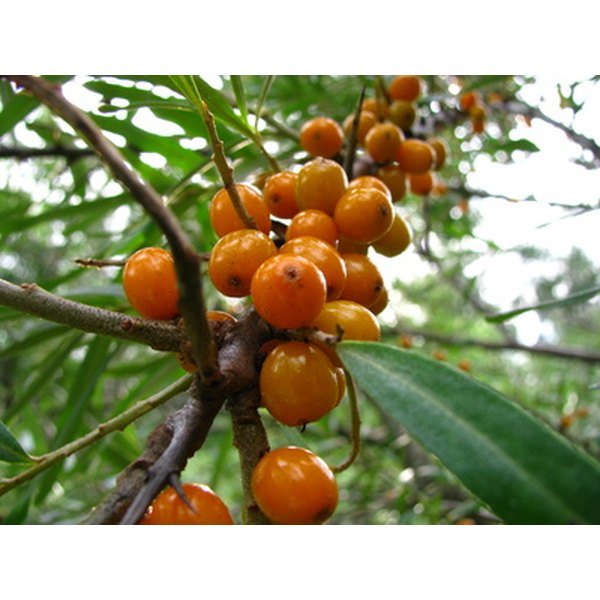 Sea buckthorn--Hippophae rhamnoides L., Elaeagnaceae--is a deciduous shrub with orange berries. The fruit of the berries and the seeds are cold pressed for the oil. Sea buckthorn oil has been used in China and Europe for centuries. The oil is used in cosmetics, to treat skin ailments and as an herbal dietary supplement. Negative side effects of sea buckthorn oil are few; it has mostly positive side effects. Before using any herbal treatment, consult your doctor or health care professional for treatment options.
Anti-Inflammatory
Sea buckthorn oil is has been used as an anti-inflammatory in China and Europe for hundreds of years. A 2010 study by the Institute of Chemical Process Fundamentals, Institute of Chemical Technology and the Institute of Experimental Botany in the Czech Republic, published in the "International Journal of Molecular Sciences," noted that sea buckthorn oil has anti-inflammatory and anti-bacterial properties.
Anti-Platelet Aggregation
Platelet aggregation is the clotting ability of blood. A study by the Department of Biochemistry and Food Chemistry at the University of Turku in Finland found that sea buckthorn oil inhibits platelet aggregation. This may prove beneficial in certain cases where blood clots can have negative health effects.
Wound Healing
Sea buckthorn oil is an effective treatment for skin wounds such as burns, skin ulcers and other skin damage. It is found as an ingredient in liniments, pastes, skin plasters and suppositories, according to Purdue University. A 2009 study by the Department of Biochemical Pharmacology at the Defense Institute of Physiology and Allied Sciences in India found that sea buckthorn has significant wound healing properties without any toxicity or other side effects.
Skin Stain
In its concentrated form, sea buckthorn oil can stain skin, clothing or other surfaces. When using the oil topically, it should be diluted and spread evenly over the surface area. Use caution when applying concentrated sea buckthorn oil around clothing as it can leave an orange stain.
Anti-Cancer Properties
One of the effects of sea buckthorn oil is its anti-carcinogenic properties, according to a 2006 study by the Department of Biotechnology at the University of Malakand in Pakistan. Sea buckthorn oil contains bioactive material such as vitamins, flavonoids and fatty acids that may inhibit cancer cell proliferation.
Positive Cholesterol Effects
A 2007 study by the Defense Institute of Physiology and Allied Sciences in India fed sea buckthorn oil to white albino rabbits with high cholesterol for 30 days, after which the rabbits' low density lipoprotein-Cholesterol (LDL) lowered and their high-density lipoprotein-cholesterol (HDL) increased. The researchers concluded that sea buckthorn oil has significant anti-atherogenic and cardioprotective activity. It is good for the heart and lowers bad cholesterol (LDL) while increasing the good cholesterol (HDL).