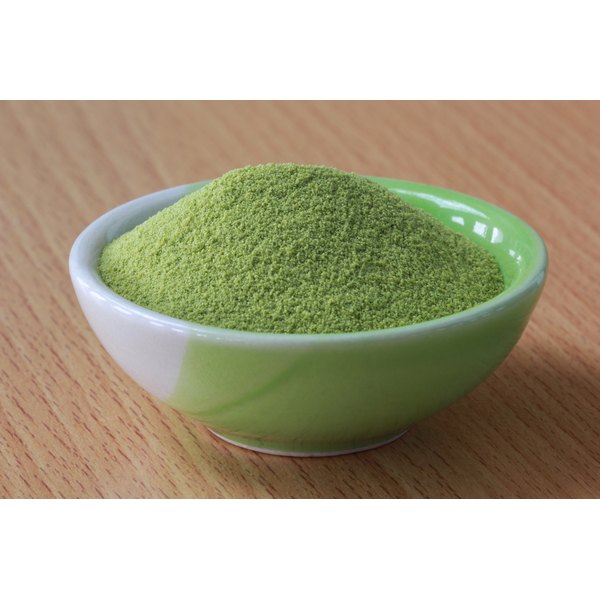 If you're trying to lose fat to improve your appearance, your health or both, you have a variety of options. In addition to an array of workout programs and diet plans, there are supplements that can help you accelerate your weight-loss efforts. But not all are effective, despite what marketing efforts may claim. To find the best fat-loss powder for you, research ingredients to understand how these products work.
Nutritech All One Weight Loss Powder
All One Weight Loss Powder is a unique supplement because it includes nutritional supplements, rather than just stimulants and herbal ingredients. The All One powder is intended to be a meal-replacement shake and contains 100 calories per serving, which is probably smaller than your average meal. However, the powder is intended to be filling, as it contains flaxseed, which is high in unsaturated fats and fiber. That may aid feeling full. In addition, the supplement contains the appetite suppressant hoodia and whey protein. According to scientific research, whey protein may help you stay fuller than other protein sources. A study from the May 2010 issue of the British Journal of Medicine found that participants ate fewer calories following a whey protein meal than after meals of eggs, turkey and tuna.
Dexatrim Max Slim Packs Powder Mix
Dexatrim Max Slim Packs are different from All One powder, as each serving contains 7 calories. This product does not contain significant levels of fiber or protein, but instead has herbs, vitamins, minerals and caffeine to reduce your appetite and lower weight. Max Slim Packs contain B, C and E vitamins, magnesium and calcium. Research indicates that supplementation of calcium may have positive effects on weight reduction and fat loss. A study from the January 2010 issue of the International Journal of Obesity found that participants on a high-calcium diet lost significantly more fat than those on a low-calcium diet.
AllMax Nutrition RapidCuts Femme
This supplement is marketed to women, but the ingredients in RapidCuts Femme powder have the potential to benefit anyone attempting to lose weight. Like Dexatrim Max powder, this powder is low in calories and contains a blend of herbal ingredients and stimulants to help you lose fat and keep you feeling full. One way RapidCuts Femme may help suppress your appetite is with the inclusion of cinnamon. A study from the May 2010 issue of the Journal Of Diabetes Science and Technology concluded it may help prevent insulin resistance, which can lead to diabetes and obesity. In addition, the authors of the study suggest that cinnamon supplementation may improve blood pressure and lean body mass.