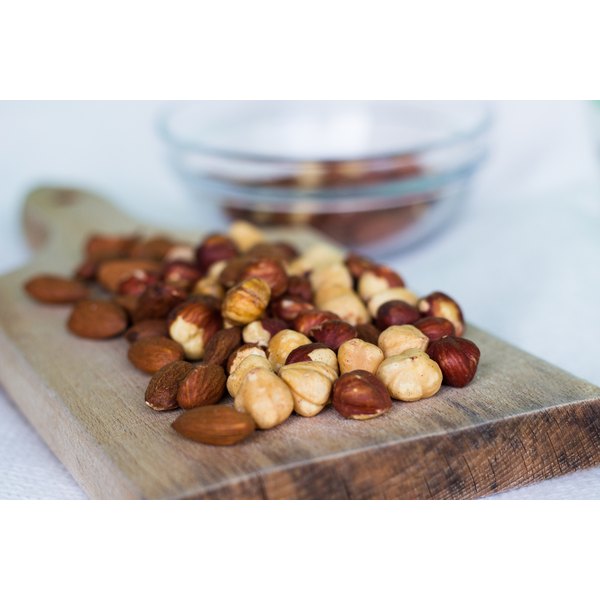 Suppressing the appetite may be a great help for those desiring to lose weight. Warding off hunger, however, can be difficult without strategies. In addition, many diet pills and herbal remedies that claim to suppress the appetite can contain harmful ingredients, such as ephedra; which according to the Mayo Clinic, can cause heart damage and various other severe complications. Finding natural remedies to suppress the appetite is a safe alternative to medications and potentially harmful substances.
Fiber/ Protein & Nuts
Choosing to eat foods that include fiber and protein, which are slower to digest and can keep you fuller, longer, is a good way to suppress your appetite. According to the Mayo Clinic, high-fiber foods may require more time to eat, helping the body register fullness. Protein rich food include dairy and lean meats and can be included with each meal. Additionally, nuts can help suppress the appetite because they're rich in fat, protein and fiber. According to Deb Arseneau, M.S., R.D. Extension Educator, Newton County, nuts tend to be filling, which can actually help with weight control.
Caffeine
Coffee is a popular pick-me-up for busy mornings, but according to the Mayo Clinic, caffeine can also help suppress your appetite by reducing your desire to eat for a brief time. Other ways coffee may aid weight loss include the diuretic effect it has on the body and thermogenesis stimulation (calorie burning).
Low Calorie Beverages / Gum
Low calorie beverages, like diet soda and tea, can be satisfying when something sweet is desired. Adding a sugar substitute to your tea can make a healthy beverage that may fend off cravings for high calorie desserts. Another simple appetite suppressing strategy is chewing gum. A piece of gum has few calories (approximately five) and can give you a shot of flavor while keeping your mouth busy. An article published in the Los Angeles Times revealed chewing gum can help dieters by curbing the appetite and helping reduce stress and mindless munching (See Resources).