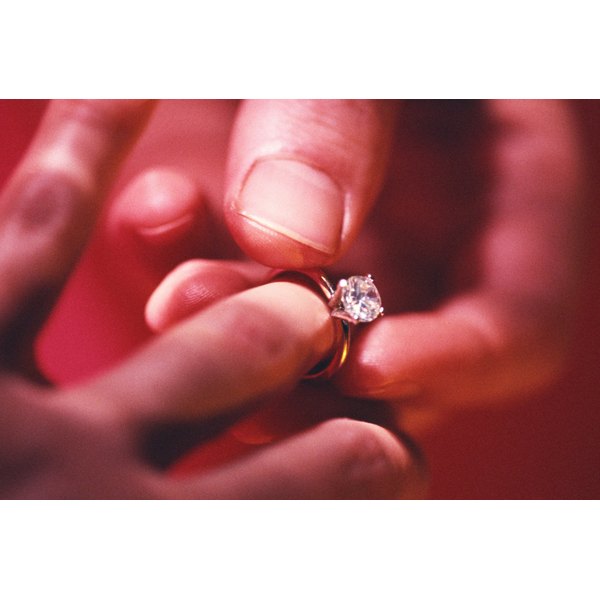 Counseling during your engagement can decrease the chances of divorce and set a precedent for how you cope with future problems, according to psychologist Seth Myers in his article, "Benefits of Pre-Marital Counseling: Successful Marriage," in "Psychology Today." Receiving premarital counseling can help reinforce healthy communication techniques and prevent destructive relationship patterns from developing.
What to Expect
Premarital counselors may start out by asking you to share what you love about your partner. Focusing on each other's positive attributes and showing gratitude and appreciation can help build a strong foundation for a healthy marriage, says psychologist and author Shannon Kolakowski. While counseling methods vary between practitioners, couples often complete an assessment that highlights strengths and weaknesses, explore goals and differences and participate in relationship skill training, according to psychologist Renee Gilbert.
Strengthening Relationship Skills
Opening up and making yourselves vulnerable to each other in a counseling setting before marriage can deepen your emotional connection and ability to communicate. Premarital counseling enables couples to work on core relationship skills, like conflict resolution, by identifying areas that are potentially controversial, according to the National Healthy Marriage Resource Center website, TwoOfUs.org. Understanding how you each communicate and deal with conflict can provide insight enabling you to be more considerate and perceptive of each other.
Planning for the Future
Anticipating your wedding and upcoming marriage is exciting. Many couples have hopes and dreams about what their lives will be like together. Premarital counseling can ensure that you and your partner are on the same track. Communicating your ideas for a successful marriage, including expectations for your future spouse, how many children you hope to have, career aspirations and financial plans, enables you to discuss serious issues with the benefit of a third-party adviser. Counseling can help you establish long-term goals together and discover how you can be there for your partner, in good times and bad, says marriage and family therapist Stan Graubart.
Coping With the Past
Former relationships, both familial and intimate, may bring emotional baggage into your future marriage. Your past experiences impact the way you view relationships and discussing past hurts or family patterns and how they might effect your forthcoming marriage can provide you with insight and understanding for each other, says Graubart. Couples willing to make the effort to explore past experiences, acknowledge each other's feelings and move forward with a clean slate may be rewarded with a healthy and successful marriage.