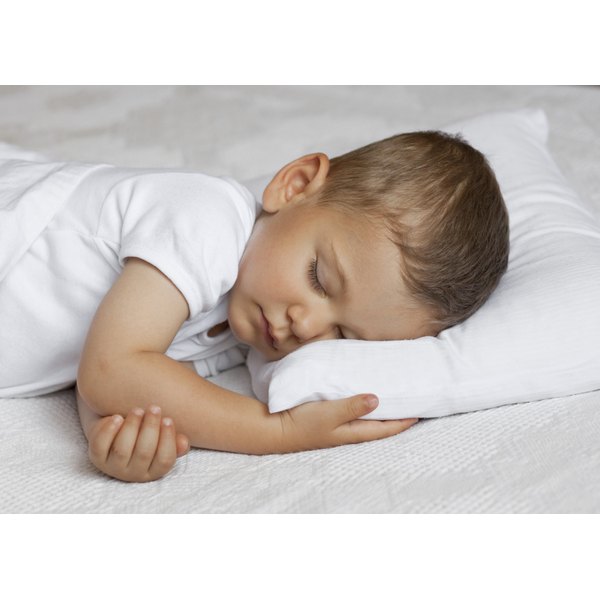 Toddler spend a great deal of time in the crib or toddler bed. The place where your toddler sleeps should be safe for naps and sleeping at night, says Kids Health. Inspecting your child's sleeping environment for things that could injure her is an obvious step to take to keep your toddler safe while sleeping. However, something as innocent as a pillow can pose a safety hazard. Understanding safe ways to use pillows will allow you to keep your toddler safe and comfortable.
Pillow Function
A comfortable pillow can help make the difference between sound sleep and restless sleep, says Elizabeth Pantley, author of "The No-Cry Sleep Solution for Toddlers and Preschoolers: Gentle Ways to Stop Bedtime Battles and Improve Your Child's Sleep." Many younger toddlers do not need a pillow and sleep well without one. Introducing a pillow should serve the purpose of making your older toddler more comfortable. If he is already comfortable, wait a little longer.
Details to Consider
When your child is ready for a pillow, Pantley suggests finding one that is soft enough to offer comfort but also firm enough that it provides a safe amount of support as well. Consider having your child try a few pillows to see which one supports her neck and head when she is lying down. Push on the middle of the pillow to see how quickly it regains its shape. If it does not move at all, it is too soft and not safe for a toddler to use. Consider purchasing a toddler pillow, which is a smaller version of a regular pillow. Toddler pillows are created to support the size of a toddler's head without excess fabric getting in the way to pose a suffocation hazard.
In Praise of Pillows
Your toddler's comfort is an important part of teaching him to sleep well on his own. Pillows offer the benefit of additional comfort, particularly as your child makes the transition from crib to toddler bed. The right pillow can help a child sleep soundly and deeply, because he is comfortable enough to fall asleep and stay asleep. Choosing the right pillow ensures that your child will also be safe while he sleeps comfortably.
Potential Safety Issues
Suffocation is a risk in any toddler bed if you do not take necessary precautions to prevent it, according to Healthy Children. Pillows have been linked to suffocation, particularly if your child is not old enough to move well in her bed to avoid the pillow from getting stuck over her mouth and nose. John Pearce and Jane Bidder, authors of "Baby and Toddler Sleep Program: How to Get Your Child to Sleep," warn parents to wait as long as possible to introduce a pillow, preferably until a toddler reaches 18 months of age or later. Pantley recommends size and feel as two important issues in preventing suffocation.
Pillow Introduction
When you're ready to introduce your toddler to a pillow, move slowly. Some little ones may need to acclimate gradually to a pillow after sleeping without one from day one. If your toddler resists the pillow, put it away for a week or two and then try again. Dress a pillow with an engaging pillow case for more appeal, if you wish.