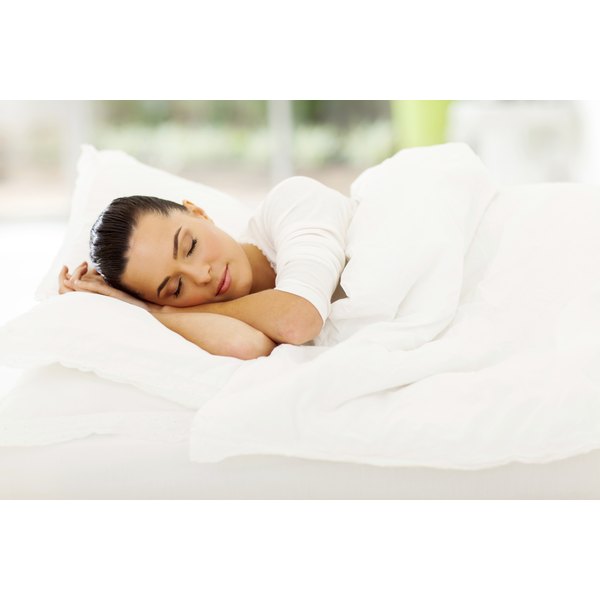 Your mattress plays a major role in your back's health. Choosing the right mattress can prevent you from developing back pain and can improve your condition in case of an existing back pain issue. There is no one-size-fits-all method while choosing a mattress. The Better Sleep Council suggests keeping in mind the comfort level, degree of support and space on the mattress when you buy one. If you are tossing and turning in bed and waking up with stiff and aching muscles, it is time you changed your mattress.
Medium Firm Mattress
For years, it was popularly believed that a firm mattress was good for back pain, despite the fact that there wasn't any supporting proof. A study published in "The Lancet" issue of Nov. 15, 2003, proved otherwise. The study found that people who slept on medium firm mattresses were twice as likely to report improvements in lower back pain as compared to those who slept on purely firm mattresses. Sleeping on a medium firm mattress adjusts to the natural spinal curve and allows your shoulder and hips to sink in as well, unlike a firm mattress. Also, in comparison to a soft mattress, a medium firm one provides more support to your body.
How To Sleep
Although there are no specific rules for sleeping, keeping in mind a few guidelines for your preferred sleeping style will help protect your back, says Richard A. Staehler, M.D., of Spine-Health.com. If you are a back sleeper, tuck in a pillow underneath your knees. This takes stress off your spine and allows for the natural curve of your lower back. If you sleep on your side, prop a pillow between your knees to keep the strain off your hips and lower back. If you sleep most restfully on your stomach, place a flat pillow beneath your stomach and hips to lessen stress on your spine.
Test Run
When buying a new mattress, be sure to put it through a sleep trial. Just poking and punching it isn't enough. The American Chiropractic Association suggests lying down on the mattress for at least five minutes to get a feel for it. Also, try sleep positions other than your preferred one to see if the mattress is comfortable.
Mattress Care
The foundation of your mattress, referred to as the box spring, adds to its durability. The box spring absorbs your body's stress and weight for the mattress. Buy the box spring along with your mattress instead of using an old or different one or not using one at all. Turn your mattress regularly to maintain even wear and give your body good support.
Replacing Your Mattress
Mattresses wear out gradually, and you might not realize that it needs to be replaced until you have body aches and pains upon awakening. Although it might not be apparent, your mattress loses support and comfort through the years. Chiropractors generally recommend that a mattress be replaced every eight to 10 years. The Better Sleep Council advocates that you assess your mattress at least twice a year for signs of wear and tear. Signs to look for include a squeaky box spring and sagging mattress.