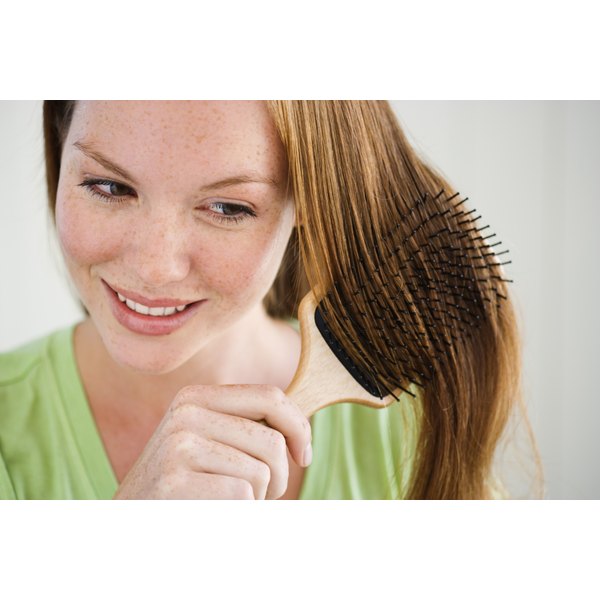 Biotin is important for not only your hair but also your body. Biotin helps turn the food you eat into energy and also helps you have healthy eyes, hair, skin and nails. Biotin is found in certain cosmetic products such as shampoos, in multivitamins and sold as individual supplements. Of course, before beginning any supplement regimen, always consult with your physician to avoid possible interactions or complications.
Reduction of Hair Loss
Biotin deficiency can cause hair loss as well as thin, brittle and splitting hairs, according to the University of Maryland Medical Center. Since biotin is part of the vitamin B group, it helps maintain healthy hair. When hair becomes unhealthy it can become fragile, break more easily and possibly fall out. Some women may experience hair loss during and after pregnancy, and biotin may help reduce this type of hair loss, according to the American Pregnancy Association.
Treat Hair Disorders
Biotin has been used to treat both children and adults who suffer from alopecia, according to the University of Maryland Medical Center. Alopecia can involve partial or complete hair loss. When combating conditions such as alopecia, biotin is most effective when used in conjunction with topical clobetasol propionate and zinc.
Strengthen and Grow Hair
Biotin has reportedly been used to help strengthen hair, according to the University of Maryland Medical Center. Shampoos containing biotin may help with dry, flaky scalps, which can lead to hair loss. When hair follicles become blocked with skin flakes, it impedes the hair growth process. Thus, ensuring your scalp is free of dry skin flakes may be helpful. Biotin may also help increase the volume of your hair. In shampoos containing biotin, it may also be referred to as "pro-vitamin B," according to the Fitness Magazine website.