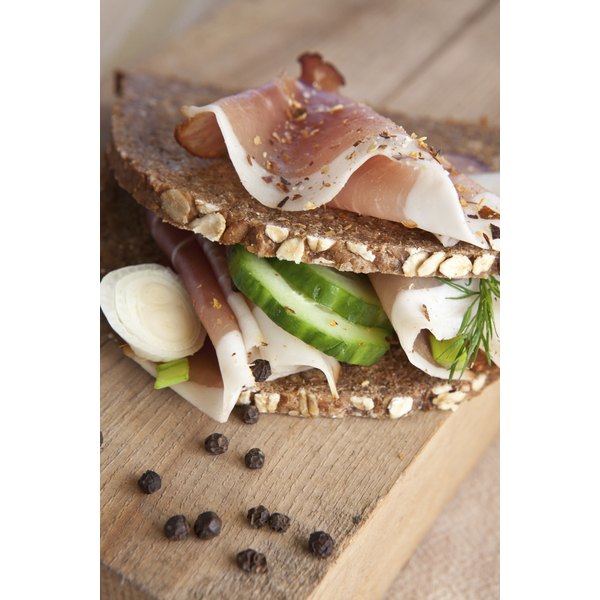 The Harvard School of Public Health reports that you can lose weight on any diet or meal plan as long as you take in fewer total calories. It reports that the key is choosing a meal plan that you enjoy and that you can stick with. Some examples of popular meal plans and diets to lose weight include a low-fat diet, a low-carbohydrate diet or a Mediterranean diet.
Low Fat
Low-fat does not always mean a product has fewer calories than the full-fat product, according to the National Institute of Diabetes and Digestive and Kidney Diseases. You should check nutrition facts to make sure that your low-fat choice is lower in calories than an alternative choice. To follow a low-fat eating plan, you should eat mostly healthy fats and your total dietary fat intake should not exceed 30 percent of your total energy intake. Some ideas for a low-fat breakfast include using fat-free or low-fat milk on your cereal with a banana or strawberries added. Also, an egg-white omelet with chopped vegetables can be a low-fat option. For lunch, try adding spinach or cucumber slices to your sandwich instead of cheese. A low-fat dinner could include grilled fish or chicken with vegetables or a salad.
Low Carbohydrate
Low-carbohydrate diets limit foods with carbohydrates such as bread, grains, rice and starchy vegetables and fruit, according to the Mayo Clinic. By limiting carbohydrates in your diet, proponents of this type of diet argue that your insulin levels will be reduced, which leads to your body burning more stored fat. Some low-carb diets allow some fruits and vegetables and most limit your carbohydrate intake to between 50 and 150 grams per day. This type of meal plan for weight loss focuses on eggs, meat, poultry and some non-starchy vegetables.
Mediterranean
The typical style of eating in the Mediterranean region is a healthy diet and can promote longevity, according to Vincent Gregory, professor of cancer prevention at the Harvard School of Public Health. A Mediterranean diet typically consists of eating high amounts of fruits, vegetables, legumes and nuts, a moderate amount of fish and dairy products, small amounts of red meat and regular use of olive oil. A breakfast while following a Mediterranean meal plan may include yogurt with nuts along with fruit. Lunch could include a salad topped with olive oil and dinner might consist of grilled fish along with fruits and vegetables.