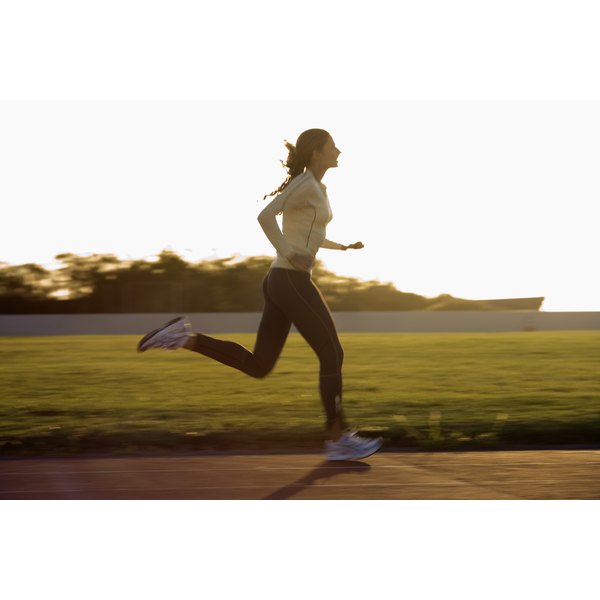 If you want to perform well in your races, it's always best to be well-rested. However, if your schedule includes a lot of practices, multiple sports or other obligations it may not be possible to always be in peak form when it's time to perform. Having to run on tired legs isn't conducive to setting personal bests, but you can adopt several strategies to make the best of the situation.
Make Sure Fatigue is the Issue
Before attempting to run on tired legs, you should make sure that it is fatigue you are experiencing, and not an injury. Because of the repetitive nature of running, runners are at risk for overuse injuries such as stress fractures, shin splints and runner's knee. Such injuries can make it difficult to run, which may lead you to conclude that your muscles are simply tired. Running on injured legs can result in even worse injuries, so you should avoid doing so. If you're not sure if your legs are injured, seek medical attention.
Consume Electrolytes
Electrolytes -- such as sodium, calcium, and potassium -- perform several functions relevant to running. These nutrients help conduct nerve signals through your body, facilitating muscular contractions. Additionally, electrolytes help generate cellular energy and metabolize glycogen, which is stored in your body, into usable energy. These energy-related functions can help you get the most out of your tired legs. The amount and type of electrolytes you'll need varies with your particular running program; consult a nutritionist for accurate recommendations.
Stretch and Warm Up
Warming up can also help you tap whatever energy you have left in your tired legs. Performing light cardiovascular exercises such as jumping jacks and squats, as well as stretching your leg muscles for ten minutes before you run can be sufficient for your needs. Such a warm-up will help your muscles contract more forcefully, encourage better blood flow and nutrient delivery to your muscles, and can discourage the buildup of lactic acid in your muscles. Perform stretches for the major muscle groups of your legs -- the quadriceps, hamstrings and calves.
Prioritize Carbohydrates and Protein
Carbohydrates are your body's primary source of fuel, so consuming carb-rich foods such as fruits, vegetables and whole grains can provide more energy for your tired legs. Protein helps promote muscle recovery, so it can support improved performance. Dairy products tend to be rich in protein and the electrolyte calcium as well. Unfortunately, there is no one-size-fits-all dietary plan, as dietary needs vary from person to person. Your coach, doctor or nutritionist can help you understand how much protein and carbohydrates you should be consuming. Your legs my be fatigued due to glycogen depletion; you can remedy this issue by refueling with nutrition bars, sports drinks and gels during runs.