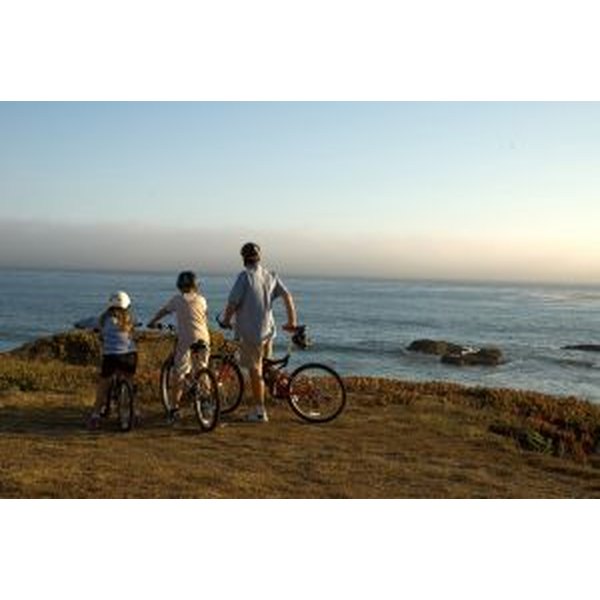 According to the National Center for Health Statistics, 16 percent of kids and teens are overweight in the United States. Being active and exercising leads to stronger bodies, a healthier appearance and less of a chance of developing illnesses like type 2 diabetes. One of the best ways to curb obesity and help kids lead a healthier lifestyle is to promote exercise in their daily lives. With the daily stresses of school, peers and family life, most kids are full of excuses not to be active. Take charge of children's lives by introducing them to motivating ways to help them help themselves.
Explain to kids how important exercise is to their overall health. Just 15 minutes a day of light exercise can keep the pounds off or work at shaving off extra pounds the child may already carry around. Explain how exercise will also increase energy and allow them to be better athletes and make concentrating at school easier.

Set aside designated times each day for some type of physical activity that the child can participate in with a willing adult. This develops a buddy system so that you can hold the child accountable for getting her daily exercise in.

Make exercise a group activity. Encourage children to bring a friend along during exercise -- this will help that child establish good exercise habits as well. Get the entire family involved in a healthy lifestyle; this will establish positive exercise habits for everyone in the home.

Create frequent fun activities with the child each day that don't seem like exercising. Examples include walking the dog, taking a karate class, bike riding to the park or visiting an indoor water park. Visiting nature centers and zoos also incorporates a lot of walking and physical exercise while allowing everyone to see and experience the animals and have fun.

Set up a family sports night it least one night a week. This is a great way to provide physical activity by trying several types of sports. Examples include badminton, volleyball, croquet, ladder golf, disk golf, football, baseball or basketball. Even if the child is not sports-oriented, make it fun by changing the game around a bit with different rules and shorter game times.

Reward the child for exercising. It could be something as simple as going out for low-fat yogurt or an Italian ice after a bike ride or basketball game. You can also reward children by planning a mini day trip or a visit to their favorite museum or amusement park. Consider giving your child items that will help with his fitness quest, such as a portable music player, new fitness shoes, fitness gear and books.

Tip

Reward kids infrequently with food. Make sure that the snack is low fat and is in celebration of making a healthy choice or reward for a physical accomplishment.

Make sure that the child is physically healthy to begin exercise. Schedule a checkup with your family physician before starting an exercise regimen.

Warnings

Do not start a physically inactive child out rigorously with exercise. Have the child work up slowly to a reasonable amount of physical play and exercise of 15 to 30 minutes per day.