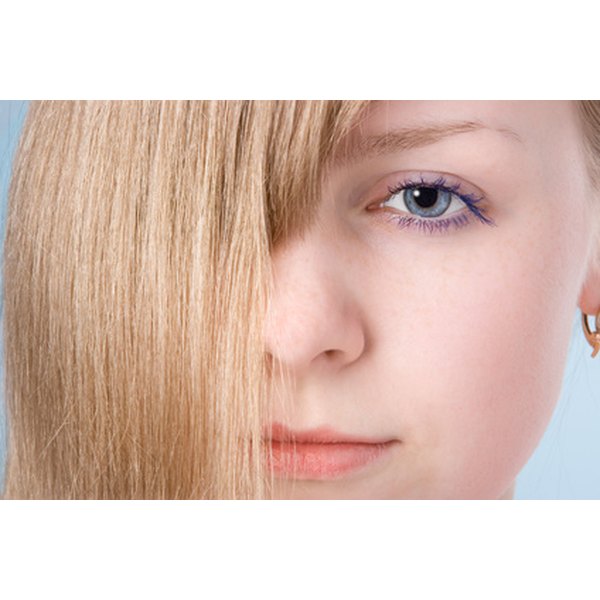 Acne breakouts may be caused by an unlikely source—your hair care products. The Mayo Clinic cautions that using products containing irritating ingredients may lead to or worsen acne breakouts. The Mayo Clinic also notes that keeping your hair clean and away from your face can reduce the occurrence of acne. Speak to your doctor or dermatologist if you are experiencing problems or are concerned about your condition.
Sodium Lauryl Sulfate
Sodium lauryl sulfate is a synthetic detergent, surfactant and foam-boosting agent. This controversial chemical was flagged by the "Cosmetic Ingredient Review" as causing acne formation in lab rats, as noted in a statement issued by the organization. Sodium lauryl sulfate, and its relative ammonium lauryl sulfate, both cause acne to form on skin when included in products in high concentrations, or left on the skin for extended periods of time. Primarily found in shampoos, sodium lauryl sulfate and ammonium lauryl sulfate are ingredients to avoid if you're prone to acne. These ingredients are often confused with the similar-sounding sodium laureth and ammonium laureth sulfates—neither of which was shown by the "Cosmetic Ingredient Review" board to cause similar irritation when tested.
Petroleum Byproducts
Petroleum byproducts, such as petrolatum and mineral oil, are common moisturizing ingredients in hair care products, according to "Cosmetics Unmasked." These ingredients are derived from crude oil and are known as occlusive moisturizers, according to "A Consumer's Dictionary of Cosmetic Ingredients." Occlusive moisturizers form a barrier over skin, keeping moisture in but not allowing it to "breathe," as noted by "Milady's Skin Care and Cosmetic Ingredients Dictionary." Since they are oil based, they don't readily wash out of hair and may stick around even after you've rinsed out your shampoo or conditioner. Styling products with these ingredients expose your hair and skin for even longer periods. Hair care products that contain petroleum byproducts can cause acne to develop on your scalp, or may aggravate acne on other parts of your body—if hair coated in a petroleum by-product brushes your face all day, for example, you may notice more breakouts.
Oils
If you have dry, damaged hair, you may rely on oil-based hair products to restore sheen and pliability. Natural or purportedly ecologically friendly products use plant oils as alluring ingredients. But those oils can cause acne. Jojoba oil is a light oil from the Simmondsia chinensis plant, and it is chemically similar to sebum, an oil naturally produced by the body. Since acne is caused by a buildup of sebum and skin cells within pores, examine your hair products for jojoba oil. It may be the cause of your breakouts.
Other oils, such as olive oil or coconut oil, are occlusive moisturizers that not only worsen breakouts if left on the skin, but also may cause allergic reactions in individuals with sensitivities. Essential oils, used to impart fragrance, may also cause blemishes to appear, as noted in "A Consumer's Dictionary of Skin Care Ingredients."