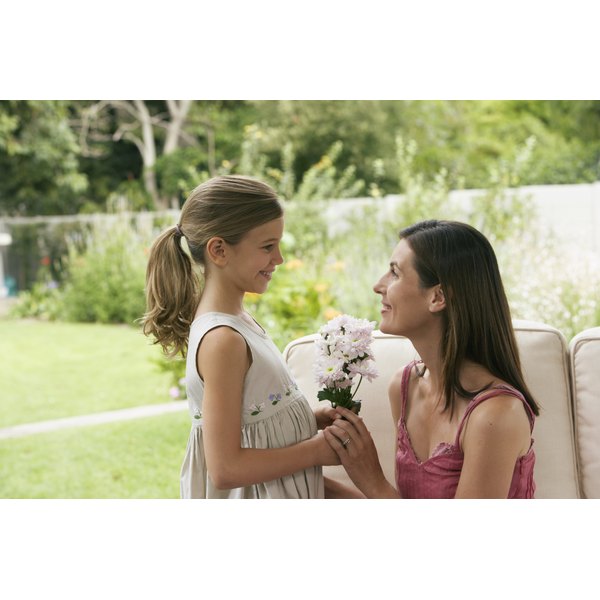 Self-confidence is an essential characteristic for all healthy kids, teenagers and adults. But if you have a young daughter, you should be especially concerned about her self confidence. Dr. Anita Gurian of the New York University Child Study Center explains that girls' self-esteem tends to start dropping after age nine, when they become more at risk of developing body issues, eating disorders and depression. As a parent, you play an important role in building your daughter's self-confidence and preventing these problems.
Demonstrate confidence in yourself and be the kind of person you want your daughter to be. Dr. Bill Sears, professor of pediatrics at the University of California, Irvine, says that young girls mirror what they see in their parents. A daughter who see her mother constantly criticizing herself, especially her appearance, may begin to dwell on those aspects of herself. If your daughter sees that you value character, intelligence and good health more than a model-thin body and a closetful of size 1 fashions, she will see in you the qualities you want her to have.

Encourage your daughter to develop her talents and to pursue her interests. If she's interested in baseball, sign her up for a junior league. If she wants to dance, offer to pay for ballet classes. She may decide that one interest isn't for her, but the process of exploring will eventually allow her to find where her talents lie, according to the American Academy of Pediatrics. When it's appropriate, try exploring some of the same activities yourself. If you always wanted to learn how to play the piano, and your daughter's taking lessons, take lessons with her. Alternatively, sign up for something together, such as a jewelry-making class.

Give her responsibilities and praise every accomplishment. Dr. Sears says that regardless of age, you can give your daughter tasks that make her feel important. As her sense of accomplishment grows, so will her self-esteem. If she is 5, have her help set the table for dinner. If she is 15, ask her to start putting dinner together before you get home from work. Tell her how much you appreciate her and the job she did.