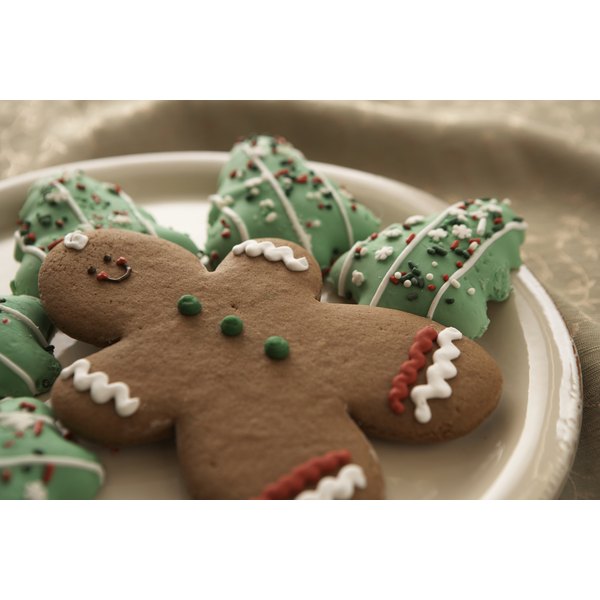 The holidays are over, but the gingerbread men and eggnog may be lingering as the source of your expanded waistline. The weight you gain during the holidays has a tendency to stick around longer than intended, according to a 2014 study published in Physiology and Behavior. Making a few changes as to how you eat, and exercise may help you lose those extra holiday pounds and keep them off. Be sure to consult your doctor before embarking on your post-holiday weight-loss journey.
Take Your Time Losing Holiday Pounds
While you may feel as though you gained your holiday weight in a few short weeks, you want to take your time when it comes to losing it. Fast weight loss may leave you feeling tired and hungry. Plus, when you lose weight too quickly it often means you're losing more muscle and water, and not the unwanted fat. To lose the fat, drop the holiday weight gain at a rate of 1 to 2 pounds a week. Depending on how much weight you gained over the holidays, it may take you into early spring to lose it.
Remake Your Holiday Plate
Your body is designed to crave foods high in sugar and fat, according to researchers at the University of California, San Francisco, which means you need a lot of will power to get back to eating right after spending the past few weeks filling up on holiday treats. Instead of worrying about calories, concentrate on food choices. Retrain your brain to crave foods that nourish your body.
Make fruits and veggies the focus of your meals to add fiber, vitamins A and C and folate. Work on replacing some of your refined grains, such as the holiday dinner rolls, with more whole-grains, such as whole-wheat bread to maximize the nutrient content of every bite. Mix it up a bit, and add alternative sources of protein such as beans, seafood, nuts and seeds in place of the turkey and ham.
And turn those holiday leftovers into something a little more healthy. Turkey makes a good soup or protein for your salad. Mix your mashed potatoes with chopped kale, onions, carrots and quinoa; form the mixture into patties; and heat them in your grill pan for a new take on potato pancakes. Use your homemade cranberry sauce as the fruit-topping for whole-grain pancakes.
Take Control Over Portions
Once you've gotten a handle on holiday-food cravings, start working on controlling portions. Use the food label to determine serving size and portion out the recommended amount. If you don't have a food label, use household items to keep portions in check. A deck of cards is equal to a serving of meat; a baseball is a cup of grains, pasta, fruit or veggies; and one dice is equal to a teaspoon of oil or nut butter. Use smaller plates, bowls and cups to prevent yourself from over serving. If you're hungry after the first round, go for veggies for your second helping instead of meat and grains.
Get Moving to Lose Holiday Gain
While what you eat is an important part of your holiday weight-loss plan, exercise helps tip the weight-loss equation in the direction you want. At a minimum, you should be getting 30 minutes of daily exercise, whether it's a brisk walk around the mall or a swim at the local pool, each day. But if you want to lose, you need to bump up your daily activity to 60 minutes a day or up the intensity by turning your walk into a run. To help offset a decrease in your body's calorie burning as you lose the weight, add strength training twice a week, such as lifting weights or using weight machines, to limit muscle loss.
Don't skip the workout just because it's cold outside. You burn a lot of calories shoveling and building snowmen. And take advantage of calorie-burning winter sports such as skiing, ice skating and sleigh riding.