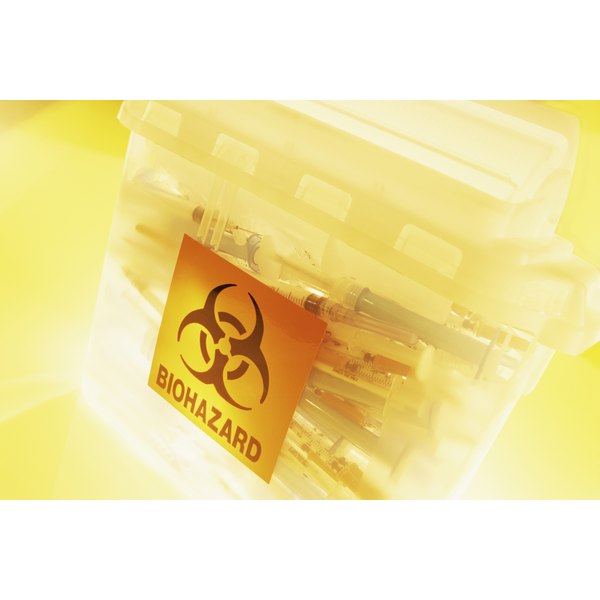 The U.S. Environmental Protection Agency has precise definitions for hazardous waste. Any substance that is ignitable, corrosive, reactive or toxic may fall under the EPA definitions. Some of these wastes, such as solvents, come from nonspecific sources as part of a manufacturing process for products you use. Other types of hazardous waste are specific to a particular industry, such as pesticides that you may use in your garden. It's important to take steps to prevent or limit hazardous waste because it can harm people and the environment.
Recycling
Return engine oil and other automotive items to your automotive or hardware store. Home improvement centers may collect batteries, lightbulbs and other wastes. Recycling options vary by location. If you have hazardous materials such as solvents or pesticides, contact your waste management service to see whether it will collect certain materials. Earth911.com can help you locate a service in your area.
Proper Disposal
Be aware that you may have to package hazardous materials such as broken compact fluorescent lightbulbs before disposal. The EPA recommends that you double-bag any waste if you accidentally break a mercury-containing compact fluorescent lightbulb. Never pour household hazardous wastes such as cleaning products, paints and solvents down your sink or into any water body. If your city does not have a collection facility, contact your city hall to see if it has special collection days. If you're in doubt, consult the manufacturers' instructions on how to dispose of these materials.
Exercise Caution
When you use any hazardous substance, take the proper precautions to prevent accidents or spills. Secure any lids or caps when these products aren't in use. Be aware of your surroundings and where you placed the containers. The Air and Waste Management Association says even a single quart of spilled oil can contaminate up to 150,000 gallons of water if it enters a river or stream through runoff. The association is an international nonprofit organization of environmental professionals.
Prescription Drugs
You have a couple of options when disposing of prescription drugs, which can be toxic. First, you can contact your pharmacy to see whether it will take your unused medications back. Alternatively, your community may offer take-back days. Refer to your city hall or police department for more information.
The U.S. Food and Drug Administration recommends that if you dispose of medications in the trash, first remove them from their original containers. This step will protect your private information as well as prevent possible misuse of the drugs. The FDA further recommends placing the unused medications in a plastic bag along with coffee grounds or other substance you're planning to throw out.