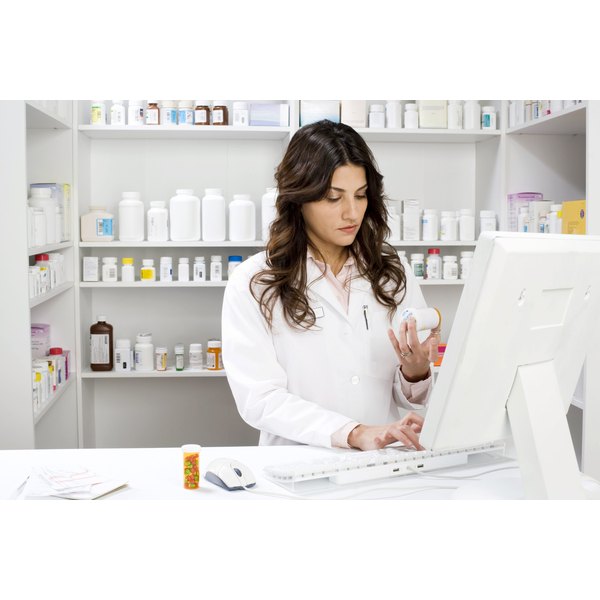 If untreated, infections caused by the bacteria Staphylococcus aureus, or S. aureus, may lead to chronic disability or even death. S. aureus is one type of Staphylococcus bacteria but is responsible for most infections caused by this group. It causes skin and soft tissue infections, bone and joint infections, pneumonia and infections of the central nervous system. The Infectious Disease Society of America, or IDSA, published guidelines for the treatment of these infections in 2011. S. aureus infections are treated with a variety of antibiotics, depending on the strain, including penicillins and cephalosporins.
Medications for Methicillin-Susceptible S. aureus
Methicillin-susceptible S. aureus, or MSSA, is a strain that remains adequately treated using penicillin, a standard antibiotic. Penicillins commonly include nafcillin, oxacillin (Bactocill) and dicloxacillin (Dynapen). Nafcillin and oxacillin are given as an injection or through an intravenous, or IV, line. Dicloxacillin can be taken in pill form. For people allergic to penicillin, a group of antibiotics called cephalosporins, such as cephalexin (Keflex) and cefazolin (Ancef), may be used as an alternative. Keflex is given orally, while Ancef is given as an injection or through an IV line. Daptomycin (Cubicin), another IV medication, is effective against MSSA but is reserved for severe soft tissue or skin infections in adults.
Medications for Methicillin-Resistant S. aureus
Methicillin-resistant S. aureus, or MRSA, is resistant to penicillin medications. If the infection is acquired in the community rather than the hospital and is not severe, it can be treated with oral antibiotic medications such as trimethoprim/sulfamethoxazole, or TMP/SMX (Bactrim, Septra), tetracycline and clindamycin (Cleocin). TMP/SMX is not approved for this use by the U.S. Food and Drug Administration, but studies have shown its effectiveness against MRSA infection. TMP/SMX, tetracyclines and clindamycin are taken orally, making them useful for treatment at home. Linezolid (Zyvox), an oral or IV medication, is especially effective in treating lung infections such as pneumonia. As with MSSA infection, daptomycin may be used against MRSA soft tissue infection.
Use of Vancomycin
The antibiotic vancomycin (Vancocin) can be used to treat both MSSA and MRSA. However, due to overuse and the development of vancomycin-resistant S. aureus, this medication is reserved for people with severe infection or those allergic to alternative antibiotics. IV vancomycin usually is started only after treatment has failed with one of the recommended medications already discussed. If a person is treated with vancomycin and the infection does not resolve, the IDSA recommends treatment with daptomycin plus a second agent, such as gentamicin, rifampin (Rifadin), linezolid, TMP/SMX or a penicillin. Another agent that may be used if treatment with vancomycin fails is a combination antibiotic called quinupristin-dalfopristin, which is given through an IV line.
Warnings
If you or someone you know is taking an antibiotic for treatment of S. aureus infection, you should understand the warning signs of medication side effects, allergic reaction and worsening infection. Medications may cause people to develop rash, blisters, hives, wheezing or face and throat swelling, which can be signs of a life-threatening allergic reaction called anaphylaxis. If you feel you are having a side effect or an allergic reaction to a medication, call your doctor or seek medical care immediately. If you have an infection that is being treated by a health-care professional but you develop fever, vomiting, diarrhea, dizziness or lightheadedness or sudden mental changes, seek medical attention immediately. These could be signs of worsening infection.