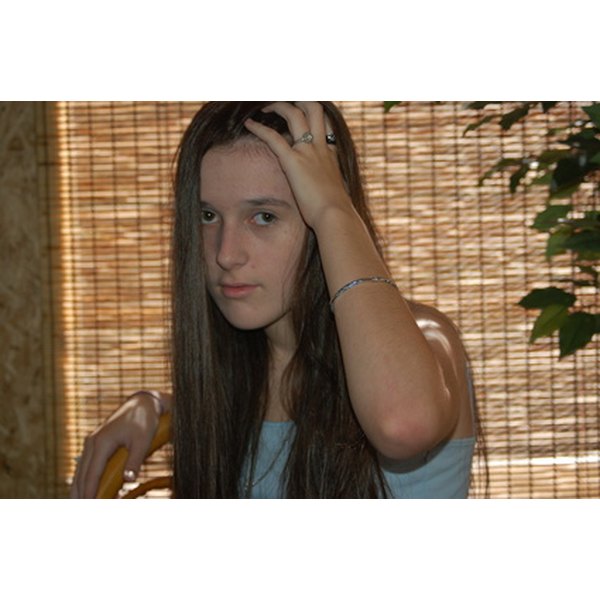 Unhealthy hair is prone to breaking and split ends and can be quite dry and frizzy. Proper nutrition is essential when it comes to growing healthy hair but sometimes it's not possible to eat a balanced meal with today's busy lifestyles. Fortunately, there are supplements that you can take to ensure your hair is healthy and strong.
Riboflavin
Riboflavin is a water-soluble vitamin, meaning you excrete the vitamin through urine, which means your body constantly needs this type of vitamin to be replaced. Fat-soluble means your body metabolizes the nutrient in fat and stores it for later use. Riboflavin is essential for normal cell function and growth, according to MedlinePlus. MedlinePlus reports that riboflavin is found in over-the-counter vitamin supplements and in multivitamins. You may also see it appear in supplements as riboflavin 5'-monophosphate, according to MedlinePlus. Riboflavin assists with growth disorders, healthy hair, hypertension, mood disorders and memory loss, according to MedlinePlus. MedlinePlus recommends adults take 1.1 mg of riboflavin daily.
Vitamin H
Vitamin H, also known as biotin, is essential for healthy hair, according to the University of Maryland Medical Center. Vitamin H is a water-soluble vitamin. The UMMC recommends biotin for stronger, healthier hair, skin and nails. According to the University of Maryland Medical Center, biotin may prevent your hair and nails from splitting, improve thinness of both hair and nails, and has been used to treat alopecia, or hair loss. The UMMC reports that biotin is contained in multivitamins and sold as an individual supplement alone. Adults over the age of 18 are recommended to take 30 mcg of biotin daily. Breastfeeding women need a bit more and are recommended to take 35 mcg daily.
Niacin
Niacin, also known as vitamin B3, is a water-soluble vitamin. Niacin is part of the vitamin B complex which is essential for hair, skin and nails. Niacin helps improve blood circulation, helps the body produce stress and sex hormones and reduces blood cholesterol levels, according to the University of Maryland Medical Center. Blood circulation is vital for healthy hair. Good blood circulation ensures that nutrients are being delivered throughout your entire body. The UMMC states that ongoing research is being investigated for niacin to treat conditions such as acne and prevention of cancer. Niacin is available in both capsules and tablets, sold over-the-counter. The daily dose of niacin for adult males is 16 mg per day whereas adult females are recommended taking 14 mg per day.