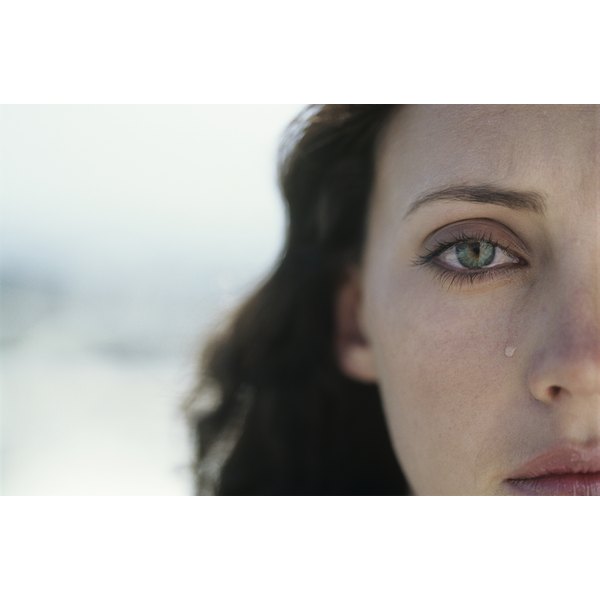 If you are going through the grieving process, you can expect to go through certain emotional stages. Typically, grief occurs as a response to the loss of a loved one or to a serious personal injury or illness that you might be going through. It can also manifest itself after a relationship has ended or after a significant life change. Because of individual differences, the stages of grief may not always happen in the exact same way or in the same order. Knowing the emotional responses that are common, however, can help prepare you to navigate through the process without developing long-term issues.
The Denial and Anger Stage
Denial and anger usually occur early on in the grieving process. Denial is a response to the shock or disbelief of an event and is commonly employed as a coping mechanism. Anger toward another person, yourself or towards a higher power is also sometimes felt. It is important to note, however, that anger which persists for an extended period of time or manifests itself as aggression or violence, may require that you see a counselor or therapist, according to an article published by the United States Department of Health and Human Services entitled, "Helping Others Cope with Grief."
The Bargaining Stage
In the cycle of dealing with grief, bargaining can occur before or after a loss. It is characterized by guilt, "What if" and "If only" statements and entertaining the idea that the loss can be changed or avoided says Elisabeth Kubler-Ross, M.D., in her book "Grief and Grieving." Bargaining can also be seen as an attempt to reason with who or what facilitated the loss, and it may be linked with denial. When an important intimate relationship breaks up, for example, you may feel compelled to talking your ex into coming back, getting someone else to speak to him or to pray for the return, says Jennifer Kromberg, Psy.D., in an article entitled, "The Five Stages of Grieving the End of a Relationship."
The Depression Stage
A psychological side effect of loss is depression. Depression can be characterized by having sleeping troubles a loss of appetite, mood fluctuations or sadness, says Joseph Nowinski, Ph.D., in an article entitled, "When Does Grief Become Depression?" Although short-term depression is a normal part of the grief cycle, long-term symptoms can result in complicated grief, clinical depression or similar issues that require additional attention. Signs to watch for include long-lasting painful emotions, numbness or detachment, withdrawal from social activities or obligations and suicidal thoughts, states the article," Complicated Grief and Related Bereavement Issues for DSM-5," published in the Journal of Depression and Anxiety.
The Acceptance Stage
Accepting the loss is the final stage, and it indicates that you have come to the end of the mourning period. You will know that the grieving process is over, once you have worked through the associated emotional pain, have adjusted to differences, and moved on with your life, says an article published by the Substance Abuse and Mental Health Services Administration entitled, "How to Deal with Grief." You should also realize that grieving has no specific time frame, and that some sadness or hurt can remain after you have been through the entire process.