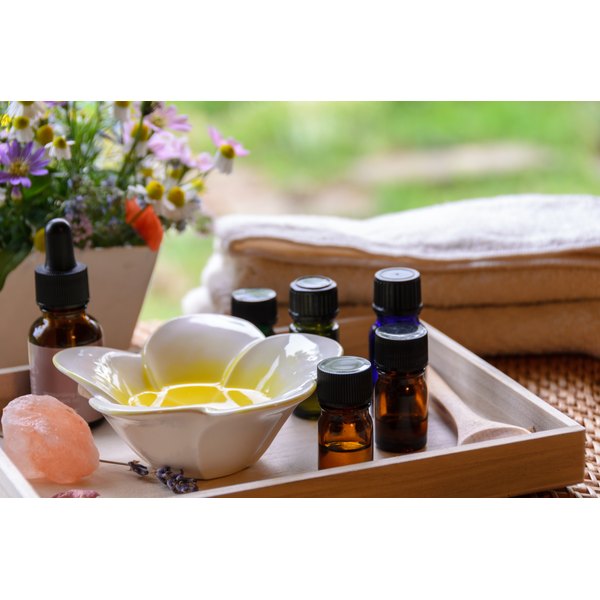 Massage oils let your hands glide longer and more effectively when stroking the skin and manipulating muscles. The best massage oils are nonirritating to the skin. You also want unscented oils so you can go fragrance free or mix your own aromas according to your needs and preferences. Consistency is another factor to consider when selecting the best oils.
Plant-Based Oils
Plant-based oils are a favorite of massage therapists because they provide natural benefits to the skin. Options such as sweet almond oil, fractionated coconut oil, apricot kernel oil, grapeseed oil, jojoba oil and sunflower oil are generally well-tolerated. All natural, plant-based oils are not optimal for massage, though. A study published in a 2013 issue of "Pediatric Dermatology" found that olive oil actually damaged the skin barrier and should be discouraged for treating dry skin and for infant massage. Always consult with your client before the massage and inquire about potential allergies. Nut allergies, for example, preclude the use of sweet almond oil.
Consider Consistency
Jojoba oil is actually a wax ester that has a similar makeup to human skin oils. It absorbs readily into the skin but has a thin texture, so you may find you need to reapply it often when using it as a massage oil. It spreads easily, though, and is beneficial to people with body acne because it doesn't clog the pores. Jojoba oil also has a long shelf life. Fractionated coconut oil and apricot kernel oil are best if you want a non-greasy feel to your massage oil. They are also unlikely to leave greasy stains on clothing and sheets.
Mineral Oil
Although many natural oils are among the best for massage, mineral oil is another good option. Although some scoff that it's man-made, Stuart Thompson, director of research at the Australian skincare company Gaia, points out that mineral oil's makeup is quite similar to that of the skin's natural oil, sebum. Mineral oil also resists oxidation, or breakdown, and has a superb texture for massage.
Aromatherapy Options
If you want to add a pleasant aroma to a neutral-smelling plant-based or mineral massage oil, natural essential oils work best. Skip synthetic fragrances, which are more likely to have a harsh smell and contain irritating chemicals. Because of their concentrated qualities, essential oils must be diluted in a carrier oil before you use them. The type of essential aromatic oil you choose depends on the needs of the massage client. You can use aromatherapy to stimulate specific sensations or to treat certain conditions. The best aromatic oils to address menstrual pain, for example, are lavender, clary sage and marjoram, found a study published in a 2012 issue of the "Journal of Obstetrics and Gynaecology Research." A 2010 issue of "Natural Product Communications" determined that massage with jasmine oil stimulated mood and alertness, making it best for mood enhancement and treatment for the relief of depression.