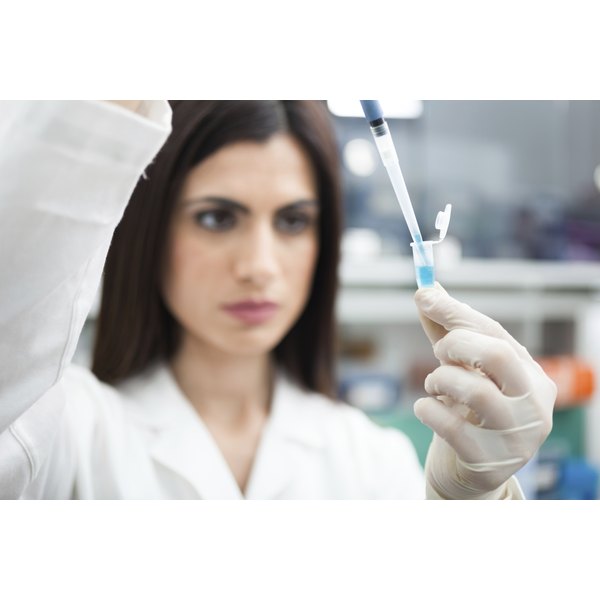 Approximately 4,000 to 5,000 births per year are due to artificial insemination with donor sperm, according to Xytex, a large U.S. sperm bank. Married couples, single women and lesbian couples use artificial insemination to create their families. The American Society for Reproductive Medicine defines artificial insemination as the use of a syringe to place sperm from a male partner or sperm donor into the cervix or uterus of a woman to produce a pregnancy.
Regulation of Infertility Insurance
Artificial insemination is often used as a treatment for infertility. Some states regulate insurance coverage for infertility treatments. According to the American Society for Reproductive Medicine, the following 14 states have laws mandating that employers cover infertility or offer insurance for fertility treatment: Arkansas, California, Connecticut, Hawaii, Illinois, Maryland, Massachusetts, Montana, New Jersey, New York, Ohio, Rhode Island, Texas and West Virginia. Arkansas, Hawaii, Maryland and Texas mandate coverage for in vitro fertillization only, excluding inseminations. State regulations have various limitations and conditions under which insurance is provided, excluding some patient populations such as lesbian couples or single women or capping allowable expenses. Employers with few employees are generally exempt from these regulations.
State Regulation of Sperm Donors
Some states regulate the use of sperm donors, excluding certain patients like gay couples or single women from using donor sperm or requiring that a physician perform the insemination, according to the Human Rights Campaign. All 50 states recognize that an anonymous sperm donor has no financial or other legal obligation to children created with his sperm. If the sperm donor is known to the recipient, some states, such as Pennsylvania and Utah, may assign some parental responsibilities to the sperm donor. Colorado and New York have supported the efforts of known sperm donors who seek parental rights. In California, Wisconsin and Ohio, if a physician performs the insemination using a known donor, the known donor is freed from any legal responsibility for the offspring.
Some states also require specific medical screening or testing steps of potential donors, in addition to the federal requirements, before they are permitted to donate sperm.
Federal Regulation of Sperm Donors
The Food and Drug Administration requires sperm banks to apply specific criteria to determine whether a person is eligible to donate sperm under its mandate to prevent the transmission of communicable disease. A prospective sperm donor must pass three levels of screening, including a medical social history questionnaire, a physical exam and blood tests for specific diseases, according to a Guidance Document issued by the FDA. Only if the anonymous donor is shown to have no risk factors for disease and no evidence of current infection is he deemed eligible to donate a sample. The FDA requires that semen from anonymous donors be quarantined for at least 180 days, pending a negative retest of the donor before the sample can be released for use. Federal regulations allow the use of ineligible known donors in some special circumstances, if specific labeling and other requirements to inform the recipient are followed.