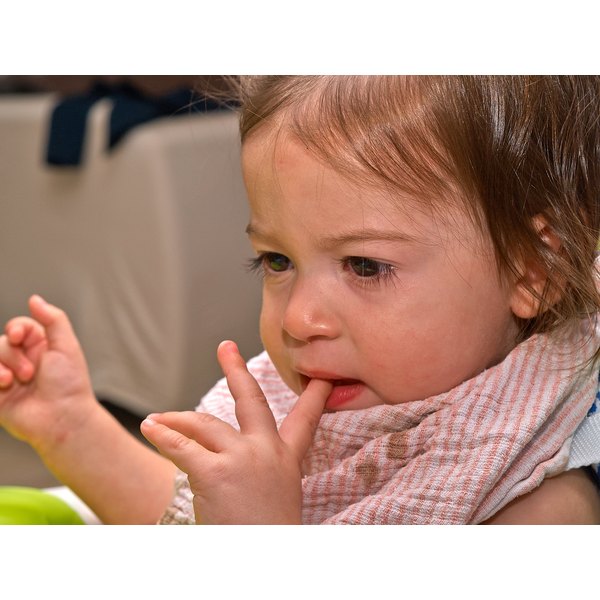 Even toddlers can show signs of anxiety in response to difficult situations. Fear is a common trigger for anxiety in young children, and with a careful assessment you should be able to recognize these unpleasant feelings easily. Some types of anxiety, such as separation anxiety, indicate normal cognitive development in a toddler, offers Indiana University's Professor Thomas J. Huberty.
Fearfulness
Separation anxiety is a common source of anxiety for toddlers, Huberty says. When faced with the prospect of a parent or caregiver leaving, the little one might cry and cling to that person. This fearful display indicates the significant anxiety felt by the youngster as he tries to prevent the separation from happening. The toddler may continue to cry and show strong emotions after the separation occurs, refusing comfort from the caregiver in attendance.
Aggression and Recklessness
A toddler experiencing anxiety could react aggressively, states the Minnesota Association for Children's Mental Health. The tot might lash out toward others when she feels overwhelmed with fears, or she could even direct the aggression toward herself. Reckless behavior is another common symptom of anxiety in toddlers, according to Minnesota Association for Children's Mental Health. Running away from an anxious situation might be the toddler's response.
Physical Symptoms
Your anxious toddler might become so upset that he begins experiencing physical symptoms, such as stomachaches or headaches, according to registered clinical counselor Kathy Eugster. While your little one might not have the verbal skills to communicate his discomforts, you might notice that he does not eat well or play normally if he has a stomachache or a headache.