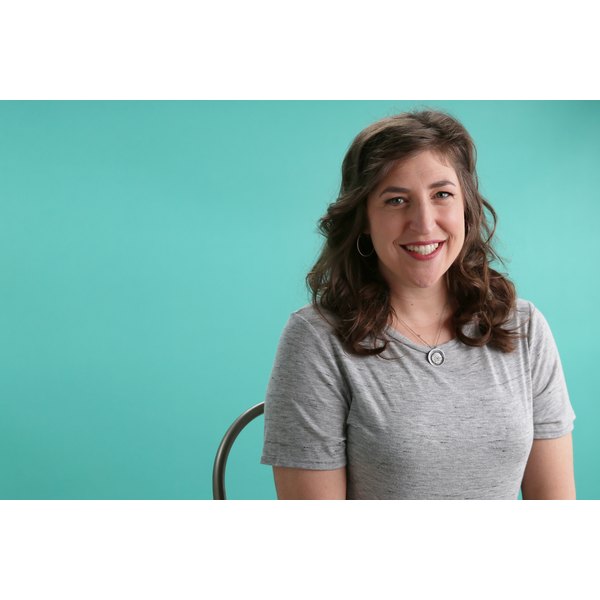 Whether she's playing the infamous Dr. Amy Farrah Fowler on "The Big Bang Theory," putting her real-life Ph.D. in neuroscience to use or parenting her two sons, Frederick and Miles, Mayim Bialik somehow manages to do it all — and do it well.
LIVESTRONG.COM caught up with the New York Times best-selling author and Invisalign partner to discuss health, wellness and her newly released book, "Boying Up: How to Be Brave, Bold and Brilliant," which dives into the science and pressures of growing up male in today's world.
"The book is written from the perspective of a neuroscientist, but more importantly from the mom of two boys," she says. "I think that because I was a 'science mom,' I thought I had it all figured out. What I realized was that a lot of the things that I knew about being female didn't apply to being male."
But how does Bialik maintain a healthy lifestyle for herself when she's not taking care of her two boys? The actress shared some helpful tips that keep her feeling in tip-top shape while conquering the world.
Eating Vegan
A big proponent for clean eating, Bialik, who released her first book ("Mayim's Vegan Table") in 2014, has chosen to follow a vegan diet for years. "I had a lot of allergies, and eliminating dairy from my diet helped me reduce allergies, which some people report," she says. "I like not contributing to a lot of the environmental impact that raising dairy and meat and eggs contributes. I happen to eat vegan, but I try to be really consistent to make clear that my choice to eat vegan is not the choice for everyone. It's not a way to lose weight — it's a lifestyle decision that is often based on ethical and environmental concerns and, for some of us, dietary and health concerns."
Bialik, who has spoken out about her struggles with anxiety and depression in the past, reveals that the foods she eats play a part in her overall mental health. "As a scientist, I tend to approach diet from a very biological perspective," she reveals. "I get migraines, for example. When I get a migraine, I crave fat and sugar, and part of it is because those foods feel good. Sugar is one of those things that feels like a really good quick fix, but there absolutely is a plunge.
"I try and stay really consistent in not using food to kind of self-medicate in the short term. Eating things that are brightly colored, as close as possible to the way that they're produced, all of those foods make me feel better and cleaner, and that really elevates my mental health. I have definitely noticed a difference."
Staying Active
With so many things on her to-do list and only so many hours in the day, Bialik says that her method of physical activity has changed. "Through the years I've done different things with my body to stay fit and to feel good," she reveals. "I had my first son at 29 and my second son at 33, and that really shifted my concept of what my body can do because, obviously, growing and birthing a human being is the most awesome thing, but it changes a lot about your body. It changes your metabolism, and it changes where you can spend your time. I used to just work out and that was my day, but when you're caring for children, it really shifts."
While activities like running were once part of her daily life, Bialik says that walking has now become her favorite form of exercise. "Walking has become much more important. There have been times in my life where I've been a runner, and that's been amazing, but sometimes my knees don't think it's as amazing as the rest of me," she laughs.
"I started working out with a trainer, so when I go to 'The Big Bang Theory' set I will often be sweaty because the trainer is right by where we work, and that's really helpful to have someone motivating me and teaching me how to do things so then I can do them on my own. So pretty much walking, lifting weights and I do watch some free aerobics videos on YouTube. I shake it!"
Tuning Out the Negativity
In terms of her mental health, Bialik tells LIVESTRONG.COM that taking a step back from social media has not only been helpful, but necessary for her overall well-being. "It's really hard to completely avoid negativity in daily life, but one of the things that I've had to do is to cut back on reading comments and spending a lot of time on social media," she says.
"I love social media for the ability it gives me to communicate things that I hope are valuable or interesting or important or entertaining, but a lot of the dialogue and the way people speak online is not the way that we speak to each other face-to-face, and it was really hurting my mental health."
Like many users, Bialik found herself falling victim to the games social media can play on one's mind. "Going down the rabbit hole of, literally, people I don't know and crying about why their life and marriage and relationships are so much better than mine, I can't live like that. It's not healthy for me," she says. "I need to remember to get outside, to breathe, to do all those things, because those are the things that are important to humans. We're not programmed to be scrolling through Instagram all the time."
Remembering to Breathe
Self-care can mean different things to different people, and for Bialik, taking care of one's self doesn't have to be expensive. "I see a lot of celebrities talking about self-care, and a lot of it sounds lovely, but a lot of it sounds really unattainable for me. I either don't have the time, the money or the resources to live the kind of lifestyle that involves spa retreats or meditation retreats."
Instead of spending money on getaways and treatments, Bialik has come to love a method of self-care that is entirely free. "One of the most important things that I have learned how to do is to breathe and to focus on breath," she says. "I really have learned how to use breath in a way that I used to think was pretentious and I used to think it was stupid — but after many years and also a lot of scientific research supporting the things that breathing correctly and using breath as therapy can do for you.
"It lowers your blood pressure, it increases your oxygen consumption, which makes you better able to function in general. It's been one of my favorite tools to learn — just how to breathe and to focus on breath as a way to filter out the other distractions that can plague so many of our minds."