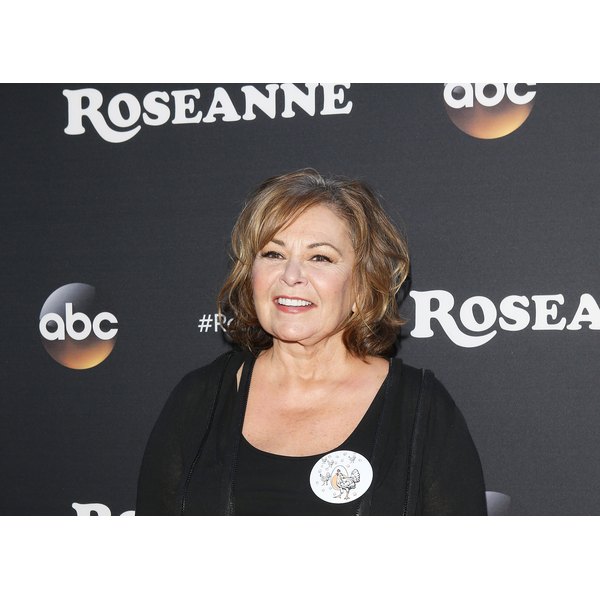 Roseanne Barr is blaming Ambien for her now infamous racist tweet targeting former Barack Obama adviser Valerie Jarrett. But is the popular sleep aid really to blame? Absolutely not, and you're about to find out why.
On Monday the actress shared a since-deleted tweet targeting Jarrett, who is African-American. "Muslim brotherhood & planet of the apes had a baby = vj," she wrote. Despite the massive popularity of her "Roseanne" revival, ABC promptly responded to Barr's tweet by canceling the show, calling the star's tweet "abhorrent" and "repugnant." Barr has since apologized to Jarrett as well as her fans and the cast and crew of her show and also offered an excuse for her bad behavior:
She was under the influence of sleeping pills. "It was 2 in the morning and I was ambien tweeting," she claimed.
The Ambien defense is a real thing — kind of.
Yep, Barr is using the "Ambien defense." Since the drug (the generic name is Zolpiden) hit the market in the early 1990s, there have been horror stories of Ambien-induced incidents. While some are seemingly innocent (think sleepwalking episodes and crazy hallucinations), others have been totally frightening, resulting in car accidents (Tiger Woods' infamous wreck) rape and even murder. Defense attorneys have even attempted to seek reduced sentences for some of the violent crimes, claiming their clients were under the influence of the drug.
Ambien's side effects can be serious.
Primary care physician and internist Matthew Mintz, M.D., FACP, explains to LIVESTRONG.COM that Ambien is in a class of medication referred to as sedative hypnotics, which have become popular because they are not as dangerous or as addictive as other medicines used for sleep, such as benzodiazepines like valium. "However, they are not entirely benign and can have some uncommon and unusual side effects," he explains. "Medications like Ambien have been associated with abnormal thinking and behavior."
Dr. Mintz mentions that reports have included behavior that is out of character (aggression and extroversion in an otherwise calm and shy individual), bizarre behavior, agitation and even hallucinations. "They can also caused impaired mental function, which lasts into the next morning, so things that require attention (driving, operating machinery) can put people on Ambien at risk," he explains.
Bizarre behaviors during sleep have also been reported, such as preparing or eating food, making phone calls and even driving while completely asleep. And it's important to note, Dr. Mintz adds, that the use of alcohol and other medications can increase the risk of these rare and often bizarre occurrences. Even scarier? Patients who experience these sleep-related behaviors don't usually remember that they occurred.
No, Ambien doesn't magically make you racist.
While many of these possible side effects are noted on its website, the pharmaceutical company Sanofi wants you to know that Barr's disturbing behavior isn't on the list. The company released a statement via Twitter on Tuesday: "Racism is not a known side effect of any Sanofi medication."
Sherry Yafai, M.D., medical director at High Sobriety, agrees that while Ambien has been known to induce sleepwalking or -talking and not remembering any of it afterward, the star can't blame her racially offensive tweet on it.
"Ambien will absolutely not make people say offensive things that they didn't mean to," Dr. Yafai tells LIVESTRONG.COM. "People have been known to sleepwalk and talk in their asleep while under the influence of Ambien, and they often don't remember talking or walking in their sleep, but people do not do or say something they don't believe in after taking it."
The moral of the story? While it's a good idea to be careful what you say or type while under the influence of any drug, there is no justification for racism.