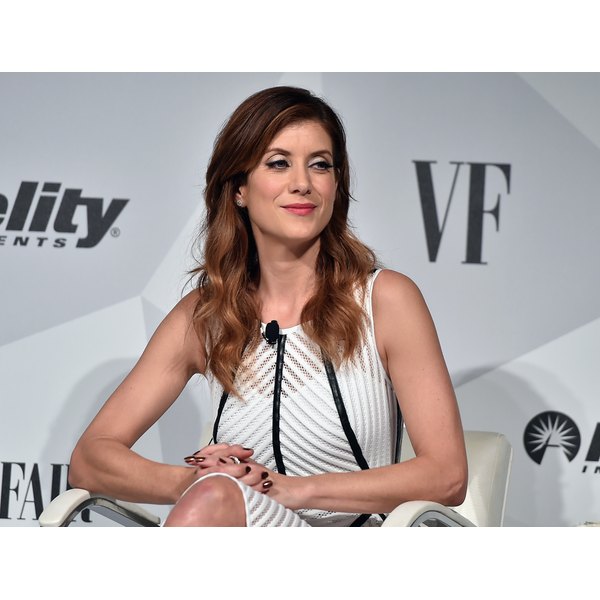 Three years after being diagnosed with a brain tumor, Kate Walsh feels better and healthier than ever.
The "13 Reasons Why" actress recently revealed to People that her approach toward health and fitness has completely shifted since her life-altering 2015 diagnosis, forcing her to "change her attitude" about her diet. "I feel honestly better than I've ever felt, I love my life, I feel so healthy and strong and probably in better shape than I ever was," Walsh told the magazine. "I feel very lucky and blessed that I'm healthy."
In 2015, while wrapping up her starring role on NBC's "Bad Judge," Walsh was experiencing constant exhaustion, something she attributed to her 80-hour work weeks. But when her mental and physical state began to deteriorate more, she went to see a neurologist. An MRI revealed she had a tumor in her frontal lobe, which turned out to be a benign meningioma — a tumor that grows on the surface of the brain and pushes the brain away, according to UCLA Neurosurgery. She spent the next nine months recovering, finally opening up about her health ordeal in October 2017.
The actress attributes her current health to a balanced diet (which includes consuming more protein) and a revamped fitness routine. "I've recently changed up my workout routines where I'm doing more intensive workouts but less often, so I give my body time to recover and rest," Walsh said.
Something else she has learned on her cancer journey? To make herself more of a priority. "I think women, particularly — I know I do — but just culturally and historically we put everybody else first," she continued. "Whether it's kids, the job, husband, boyfriend, cats, dogs — usually we're at the bottom of the list. And so that's why I think it's so important to tell the story of self-care and health and making sure that you're OK, and then you can be of service to everyone else, whether it's your job, your family, whomever. It's just going to go so much better. I think it's still kind of changing that story for women … making sure that self-care comes first."
Maria Menounos, who had a golf ball-size tumor removed from her brain in 2017, also encourages women to make their health a higher priority. The former E! News anchor's mother was in the midst of battling brain cancer when she received her diagnosis, which forced her to re-evaluate her life priorities.
"I mean, as women, you know, we put ourselves last and we put our health last," she explained in a recent interview. "I postponed that MRI for months because I thought I was crazy. I thought I was being paranoid. I was putting my mom's health first — which, I mean, it's understandable. It was critical. But we have to focus more on ourselves."
Walsh and Menounos are truly inspirational, and by telling their stories they are raising awareness not only for brain cancer, but for women's health in general. Keep doing what you are doing, ladies!
What Do YOU Think?
Were you surprised that Kate Walsh feels healthier than ever after having her brain tumor removed? Has a major health issue inspired you to change your health and fitness ethos? Do you think women have trouble putting themselves and their health first?