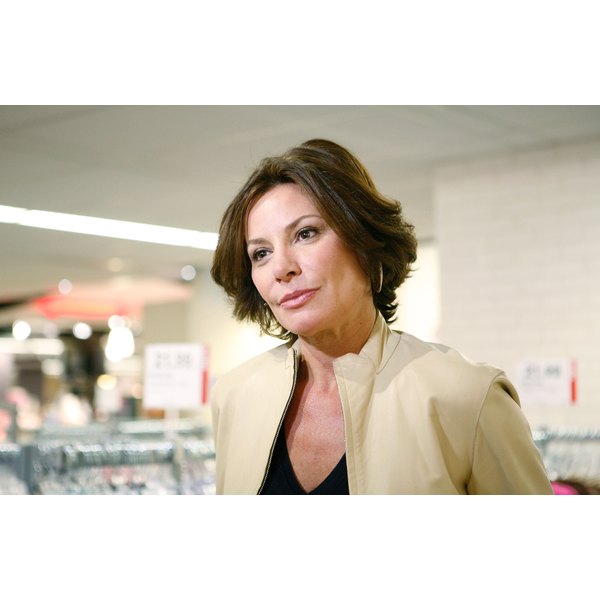 Luann de Lesseps is opening up about her issues with alcohol, saying she believes undiagnosed PTSD (post-traumatic stress disorder) may have contributed to the excessive drinking that landed the "Real Housewives of New York" star in jail.
After being arrested on charges of disorderly intoxication, battery of an officer, resisting arrest with violence and threatening a public servant on Christmas Eve, de Lesseps checked herself into an alcohol treatment center, where she discovered that a 1999 car crash may have triggered her issues with drinking.
"I came down a mountainside in Switzerland," the 52-year-old author and singer tells People. "I never really faced that horrific accident, and through that and everything else, my emotions just crept up on me and drove me to the point of self-medicating with alcohol."
The night of her arrest marked the first time she returned to Palm Beach since she married ex-husband Tom D'Agostino last New Year's Eve. The pair divorced seven months later, and de Lesseps once cited the resurfacing of "long-buried emotions" regarding their marriage as the cause of her drinking. But she recently learned that there's much more to the picture.
"People think it's just about Tom," she says. "It's not just about Tom."
"I had PTSD, and I didn't even know it because all those years ago PTSD was not a real thing, especially in Europe," says de Lesseps, who was, at the time, married to European aristocrat Alexandre de Lesseps. "Nobody had ever heard of PTSD when I had my car accident. I never really treated that horrific accident that happened to me."
But it wasn't until her divorce from D'Agostino, a 51-year-old businessman, that de Lesseps began to self-medicate, having at least seven alcoholic beverages a day.
"I would start with a martini and maybe have two martinis and then get into the wine at dinner," she says. "Then I'd have a little bit of vodka soda before going out. I would have the hair-of-the-dog drink the next day, and drink more, and it didn't feel good…. Alcohol just stopped working for me."
Since leaving rehab, de Lesseps has been completely sober — but hasn't sworn off drinking alcohol in the future.
"Will I drink again? I don't know," she says. "I miss good red wine. Not to say that I'll never have good red wine again. Who knows where we'll all be tomorrow. For today, that's the choice that I'm making for myself."
So what is PTSD? It's a psychological disorder that, as in de Lessep's case, people develop as a result of experiencing a shocking, scary or dangerous event, according to the National Institute of Mental Health. People who have PTSD can become stressed or frightened even when they're not in danger. Symptoms include flashbacks, bad dreams, angry outbursts and avoiding certain places that remind you of the traumatic experience.
It's shockingly common: About 8 percent of Americans suffer from PTSD, according to the National Center for PTSD. And despite what you might think, women are more likely to have it. About 10 percent of women will experience PTSD at some point in their lives, compared to about 4 percent of men.
De Lessep's path toward diagnosis may not have been the smoothest, but she proves that seeking help and treatment can lead you to answers for problems you didn't even know you had. So if you think you may be dealing with PTSD or another psychological disorder, don't be afraid to seek help from a psychologist or psychiatrist. You can also talk to your family doctor or learn about various treatment options by visiting this online tool from the National Center for PTSD.
Read more: Keith Urban, Tim McGraw and 5 Other Country Stars Who Are Sober