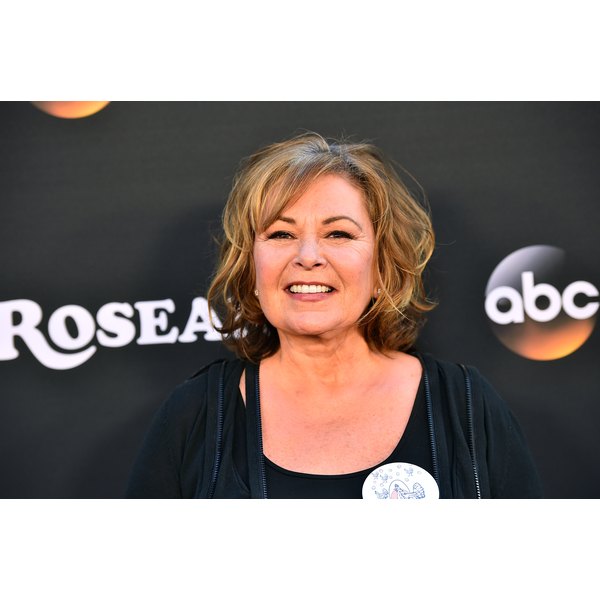 After a year of believing that she was going blind due to macular degeneration and glaucoma, Roseanne Barr (whose reboot of "Roseanne" is back on TV) learned she'd been misdiagnosed and wasn't losing her eyesight after all. Phew!
"I went to a new doctor about a year ago," the 65-year-old actor, writer and producer tells People. "She told me I don't have macular degeneration, but rather a mole on the inside of my eye that's growing, and that's why my vision is narrowing. Probably in the next year or so I can get it removed. I have a bad eye, but I'm not losing my eyesight." Seriously, what a massive relief that must have been, right?
The reason Barr didn't initially question the macular degeneration diagnosis (an incurable eye disease that leads to partial blindness) is because her father had the same thing.
"It was a way better diagnosis than some of my friends were getting. It's not deadly. I didn't take it too badly," Barr says about her initial diagnosis. "I'm positive that nothing will go right in life. That lets me off the hook. You never know. It's never what you think, and it's never what you dread — it's always something else that you didn't expect. So you might as well live every day and have as much fun as you can. Do at least one good deed a day anonymously. Have as much fun as you can have." Best advice ever!
Despite her "bad eye," Barr has been working tirelessly on the revival of "Roseanne" — both in front of and behind the camera.
"The first day in the writers room I thought I was in heaven," she says. "Every idea I had all this time, I had pitched to them and they picked them right up. It was kind of like a machine — it worked so well. The first day on the set, I hadn't seen John (Goodman) or Laurie (Metcalfe) for a long time, and there we were. It was really exciting to watch them rebuild the set — it's just perfect. It still felt new, but very familiar."
Barr's experience goes to show that getting a second opinion is almost always a good idea. While your reasons for having a second expert weigh in on your condition may vary, Leonard Zwelling, M.D., MBA, former vice president of MD Anderson Cancer Center and health policy fellow on the staff of the U.S. Senate Committee on Health, Education, Labor and Pensions, tells LIVESTRONG.COM that, at the very least, you'll gain more information.
"With more knowledge, you become a better patient," he says. "You feel a greater sense of control and empowerment, and your confidence goes up, especially if the opinions match."
Getting a second opinion could even save your life. Seriously! Take actor Rita Wilson, for example, who originally received a negative cancer test, but after a second screening learned she had breast cancer.
So while you're waiting for the next episode of "Roseanne" to air and give you some major '90s nostalgia, check out this article for more tips and considerations on when and how to get a second opinion.