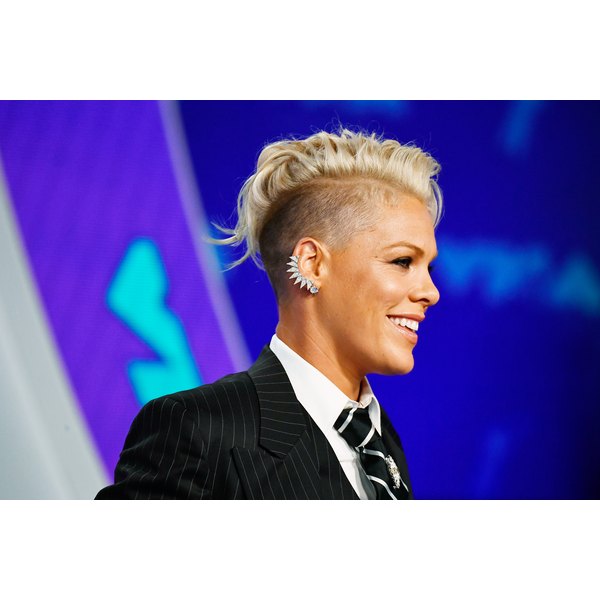 Pink has been forced to bow out of her upcoming concert dates after contracting the flu for the second time in two months.
The singer famously braved her way through the national anthem while totally flu-ridden at the Super Bowl back in February, but the latest round of flu has been so bad that she was forced to cancel two of her "Beautiful Trauma" concert dates — one scheduled for March 23 in Montreal and another on March 25 in Detroit. Boooo!
"I am absolutely GUTTED to announce that tomorrow's show, March 23rd (Friday) will be postponed. I will absolutely be back to perform for you all, and I'm grateful for you wanting to come and be with us at all," she tweeted on Thursday. "Our entire family has been battling this awful virus/flu for two weeks now, and I have battled my way through these shows because postponing sucks. I'm really sorry, and know that I have done everything I could to avoid this." We feel your pain, girl.
The three-time Grammy winner explained that her husband, Carey Hart, and her two children, Willow and Jameson, are also battling the virus. "I wish anyone out there going through this healing vibes and big hugs," she ended her message.
By Saturday she still wasn't better, updating her sickness status to not "well enough" to do the show. "I want to give you all the full show and not be hacking all the way through it and have to cut songs because of my voice," she shared, thanking her fans for their understanding. "Again, I'm very sorry and have tried so damn hard to avoid this. All my love," she concluded.
Despite the fact that this year's flu season peaked in early February, activity is expected to continue through the middle of April, according to the Centers for Disease Control and Prevention. And even if you have contracted it once, there is a chance you can get it again (as Pink has learned the hard way), because there are four different types of influenza (A, B, C and D) and different strains of each. So just a few more weeks of holding your breath: Because, yeah, you can get the flu just by breathing.
We hope Pink and her family are on the road to recovery and she will be able to continue her tour in the near future. If you are still concerned about this year's flu season, here are 12 not-so-common tips to fend off the cold and flu.
What Do YOU Think?
How many times have you battled the flu this season? Do you have any tips on how to get over it promptly? Are you in awe of entertainers who continue to perform when they are sick?