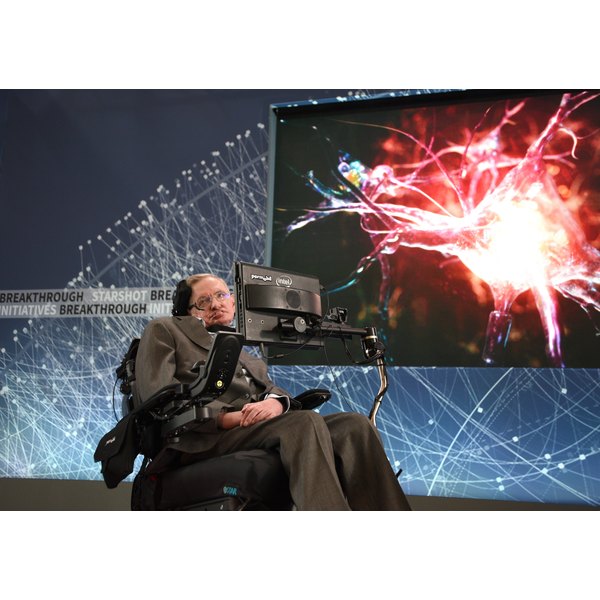 At 21, Stephen Hawking was diagnosed with amyotrophic lateral sclerosis — more commonly known as ALS — and told he had two to three years to live. To say he defied the odds is an understatement. The famed theoretical physicist lived another 55 years, passing away at 76 on March 14.
So how did Hawking survive for so long when others, according to the ALS Association, typically succumb within three to five years of diagnosis? In many ways, the disease that inspired the Ice Bucket Challenge back in 2014 remains a puzzle that researchers are still trying to figure out.
Understanding ALS
"ALS is a complex disorder, and every journey is so incredibly variable," ALS Association's chief scientist Lucie Bruijn told Time. "We are working with teams globally on these very big data efforts, trying to understand each person's clinical journey, what their genetics look like and what they were exposed to."
What we do know is that ALS is a progressive neurodegenerative disorder that attacks the brain and spinal cord's motor neurons, nerve cells responsible for controlling voluntary muscle movement. As motor neurons die, people may lose the ability to speak, swallow, move and breathe.
Considering the Age of Diagnosis
Most people diagnosed with ALS are between the ages of 40 and 70, but there are younger patients diagnosed anywhere from childhood to their early 20s, as was Hawking. To understand this early-onset version of the disease, USA Today pointed to an article on Hawking published in the "British Medical Journal" in 2002.
"We have found that the survival in younger patients is strikingly better and is measured in many years — in some cases more than 10," said British neurologist Nigel Leigh in the article. "Among people in their 50s and 60s, there is a 50 percent chance of surviving four years or so. It is a different beast if you start young, oddly, and no one knows why."
According to the Genetic and Rare Diseases Information Center (GARD), patients whose symptoms begin before the age of 25 have what is known as juvenile ALS. GARD explains on its site that rate of progression for juvenile ALS varies widely: People may become unable to move by anywhere from age 12 to age 50.
There are other examples of individuals seemingly beating the odds like Hawking, living for decades with the disease. Former David Lee Roth guitarist Jason Becker was diagnosed in 1989 at the age of 21 and is still alive today, 29 years later. And, as Time reported, North America's longest-living ALS patient, Steven Wells, has had the condition for nealy 40 years.
Still, these cases are outliers. Only 5 percent of ALS patients live longer than 20 years, according to the ALS Association.
Also, There's Genetics
Researchers have identified more than 20 different genes involved in ALS, reported LiveScience. "ALS is probably 20 or more different diseases when one considers the genetic underpinnings," explained Anthony Geraci, director of the Neuromuscular Center at Northwell Health's Neuroscience Institute in Manhasset, New York. These genetic variations may affect the progress of the disease.
Leo McCluskey, medical director of the ALS Center at the University of Pennsylvania, would agree. He spoke with Scientific American in 2012 for a piece on Hawking's longevity, saying that while the care he received may have played a role, "It's the biology of his form of the neurodegenerative disease that determines how long he will live."
Ultimately, researchers can't point to a particular gene or group of genes that allowed Hawking to live with ALS for 55 years. As The Independent reported, Hawking himself once said, "I have lived most of my life in the expectation of an early death, so time has always been precious to me."
And he certainly made the most of that time. What an inspiration!
What Do YOU Think?
Have you known anyone affected by ALS? Were you surprised that Hawking had lived so long with the disease? Do you think there will be a cure in our lifetime?