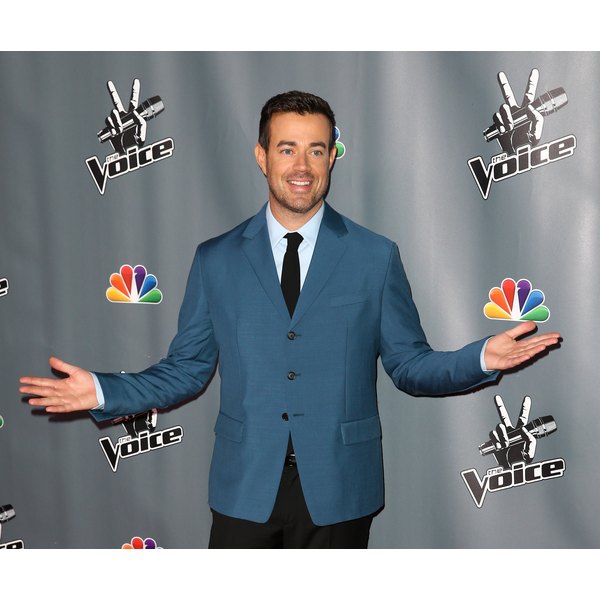 If you're one of the 40 million Americans who suffer from anxiety, Carson Daly wants you to know that you're not alone. "The Voice" host opened up about his lifelong battle with anxiety on Friday in an exclusive interview with his "Today" show co-hosts.
Daly explains he experienced panic attacks (which began when he was working as the VJ on MTV's "Total Request Live") that eventually became so severe they landed him in the hospital.
"You feel like you're dying. In fact, I went to the hospital," Daly said. He explained that the medical professionals put leads (small disks that help to monitor your heart's activity) on his chest. "I'm like, my heart is going to stop, or I'm going to have a heart attack. And, of course, you're perfectly fine."
He was inspired to share his story by NBA All-Star Kevin Love, who recently published a letter about his own experience with panic attacks. While Love's panic disorder didn't affect him until recently, Daly shares that his struggles with anxiety began when he was a child.
"Looking back on my life, I was a worrywart kid. I was always worrying," he said. "My father died when I was 5. I had an ulcer when I was in high school. I've been nervous my whole life."
Viewers can actually see his anxiety manifest on television, Daly pointed out, in the form of constant fidgeting. "Some days I'm just a little anxious."
But Daly's story has a happy ending that proves why it is so important for people to discuss their mental health with their friends and loved ones.
"What helped me is talking to a friend once who said, 'Everything you're experiencing I have too. You have anxiety. You should go talk to somebody about it.' And I was like, 'It's a thing? Anxiety is a thing?'"
That fateful conversation pushed Daly to find the help he needed. Though he noted that treatments for anxiety are not "one size fits all," he opened up about what works for him.
"I opted for a cognitive therapist — somebody who really teaches you about anxiety and the model of it and offers you tools on how to work through it," he said. "Muscle retention and relaxation really helps me."
Studies have shown that muscle retention and relaxation, or progressive muscle relaxation, can reduce pain in patients who have undergone surgery, provide short-term stress relief in college students and lessen anxiety among elderly test subjects. For a demonstration, look no further than the "Today" show clip where Daly actually showed viewers how it's done. He clenched his fists and arms, as if he were lifting weights, for several seconds, then he completely relaxed them. "Wow, that felt great, like an ocean of relaxation."
Like Love did in his essay, Daly mentioned that talking about mental health can be especially challenging for boys and men who grew up learning to deny their "weaknesses."
"Because, as it pertains to men's health and anxiety, that was my dad growing up. He was, 'There's no such thing as stress or anxiety. It's not the flu or breaking a bone. Rub some dirt on it,'" he said.
Now Daly hopes to show people that mental health disorders are nothing to be ashamed of. In fact, his anxiety helps to shape the person he is today, including the good stuff.
"This is the way I was born, this is the way I'm hardwired, this is kind of the downside of the way God made me, and there's a tremendous upside as well," he said. "I'm very sensitive, I love music and music moves me in a very visceral way physically, so I get the chills hearing soul music, definitely. When I'm with my family, it's a euphoric moment, and those things resonate to me very, very deeply. And that's important to me because I feel so much love and empathy and compassion. And that's just the flip side to a lot of the anxiety.
"I mean, I really wear the way I am like a badge of honor. This is who I am, and I'm proud of it," he says. "I may be a little anxious, but I know I'm going to be OK."
If you think you may be dealing with anxiety, there are plenty of treatment options. Start by finding a mental health professional who fits your needs. According to the Anxiety and Depression Association of America, this could be a psychologist, psychiatrist, clinical social worker or even your primary care physician, who may prescribe you medicine or refer you to a specialist.
There are also many different kinds of therapy — whether you prefer to speak one-on-one, in a group or over the phone, you can explore your options to find what works for you. During a therapy session, your health care provider may teach you strategies like muscle retention and relaxation to help you cope with your anxiety on a daily basis.
We hope that Daly's message inspires more people to open up about their own mental health problems and find the help and support they deserve.
Read more: 11 Celebrities Who Struggle With Depression