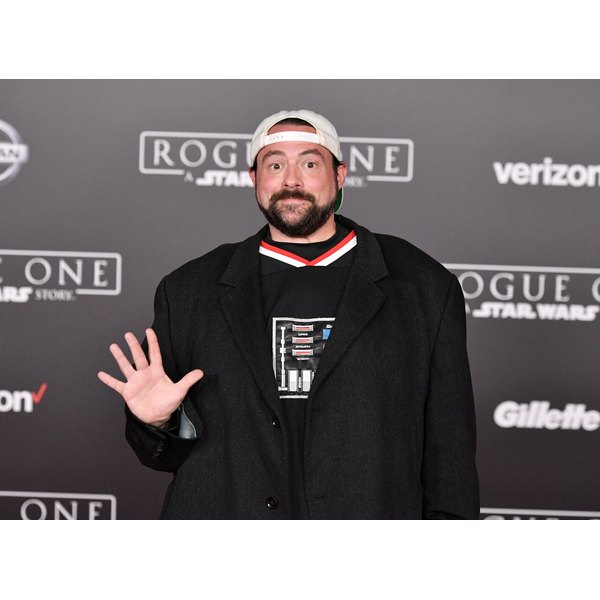 Leave it to Kevin Smith to have a sense of humor about almost anything — including a near-death experience. The actor and filmmaker revealed he suffered a massive "widow-maker" heart attack over the weekend, sharing his experience and epiphanies in a lengthy social media post.
"After the first show this evening, I had a massive heart attack," Smith tweeted along with a selfie taken from the hospital bed. "The doctor who saved my life told me I had 100 percent blockage of my LAD artery (aka 'the Widow-Maker'). If I hadn't canceled show 2 to go to the hospital, I would've died tonight. But, for now, I'm still above ground!"
The 47-year-old "Clerks" director was slated to appear in two shows on Sunday in Glendale, California. It was during the first that he suffered the heart attack. "I was trying to do a killer standup special this evening, but I might've gone too far," he wrote in a follow-up Facebook post elaborating on his health crisis.
"After the first show I felt kinda nauseous. I threw up a little, but it didn't seem to help. Then I started sweating buckets and my chest felt heavy. Turns out I had a massive heart attack."
The widow-maker type of heart attack — which earned its moniker due to the low survival rate of sufferers — that Smith suffered is the most deadly type of heart attack a person can have. "The LAD (left descending artery) is a very important blood vessel," cardiologist Stanley Chetcuti, M.D., explained in a University of Michigan blog. "It supplies a significant amount of blood flow to the heart muscle — so there can be big consequences when that territory is jeopardized."
Usually brought about by lifestyle factors like poor diet, lack of exercise and smoking along with genetics, harmful blockage builds up slowly over time, but things can go from bad to fatal fast. "When underlying cholesterol and plaque in your vessels comes into contact with the bloodstream, the vigorous reaction creates blood clots," he continued. "You could go from 20 percent blockage to 100 percent instantaneously." The blockage ultimately cuts out oxygen, triggering ventricular fibrillation that will eventually result in cardiac arrest.
Smith, whose father lost his life to a massive heart attack at 67, turned his health crisis into a life lesson, explaining that "death was always the thing I was most terrified of in life. When the time came, I never imagined I'd ever be able to die with dignity — I assumed I'd die screaming like my dad," he wrote. "But even as they cut into my groin to slip a stent into the lethal Widow-Maker, I was filled with a sense of calm."
He then continued to talk about all the things he is grateful for in his life, including his family and career, explaining he was "content" but would "miss life as it moved on without" him, jokingly adding, "and I was bummed we weren't gonna get to make #jayandsilentbobreboot before I shuffled loose the mortal coil." (For those of you unfamiliar with Kevin Smith's films, he was referring to his fictional characters Jay and Silent Bob of "Jay and Silent Bob Strike Back" fame.)
In 2015 Smith, who has been overweight for most of his life, revealed on social media that he dropped a whopping 85 pounds. He told Men's Health he achieved the weight loss via a combination of exercise and swapping sugary drinks for green juice. This recent heart attack has inspired him to make some more healthy lifestyle changes. In his Facebook post he revealed he may even go vegan. Treatments for heart attack patients include medications, lifestyle changes and, as in Smith's case, surgical procedures like implementing a stent to prop open the artery in order to improve blood flow through it.
"But the point of this post is to tell you that I faced my greatest fear tonight … and it wasn't as bad as I've always imagined it'd be. I don't want my life to end, but if it ends, I can't complain. It was such a gift," he concluded.
Well said, Kevin. We are happy you are recovering and using your experience to educate others about heart attacks. Coincidentally, February is American Heart Month, so there is no better time to take a moment to learn more about them. Here is what everyone should know about heart attacks.
Read more: 6 Ways to Reduce Your Heart Attack Risk
What Do YOU Think?
Are you surprised Kevin Smith suffered a heart attack? What do you think about his take on it? Are you familiar with widow-maker heart attacks?