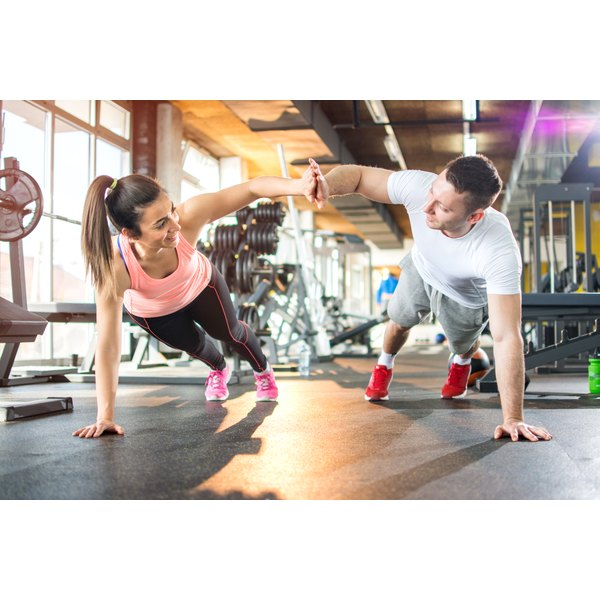 If you and your significant other love to hit the gym together and tend to spend your Sunday afternoons meal-prepping side by side, you may be onto something. According to a study published in the journal Obesity, our healthy habits can rub off on our partners, helping them to lose weight.
In order to better understand the effects of romantic relationships on weight loss, researchers from the University of Connecticut in Mansfield followed 130 couples who lived together for six months. The couples were divided into two groups: In the first group, one of the partners joined an organized weight-loss regimen and had access to online resources and counseling. The other group had a partner who was "self-guided," receiving a handout with information about dieting, exercising and weight management — and no further assistance. The researchers checked in with the couples at three months and six months.
What they found totally proves that couples who sweat together stay together. Regardless of their group, the partners in both groups lost weight alongside their significant others. This was true at both the three-month and six-month checks. In fact, Dr. Amy Gorin, associate professor of psychological sciences at the University of Connecticut and one of the study's authors, tells Medical News Today that partners tended to lose weight at the same rate; if one partner hit a rough patch, so did the other.
These findings make sense, considering previous research shows that support from others is an important factor in weight-loss success. As an added bonus, couples who live together can keep each other accountable 24/7. What's more, creating healthy habits together can also bring two people closer: Studies show that after jointly participating in an exercise or activity, couples report feeling more satisfied with their relationship and more in love with each other.
Dr. Gorin hopes that this study will inspire weight-loss programs and health care providers to consider the "ripple effect" that weight-loss initiatives can have on those around us.
"How we change our eating and exercise habits can affect others in both positive and negative ways," Dr. Gorin says. "On the positive side, spouses might emulate their partner's behaviors and join them in counting calories, weighing themselves more often and eating lower-fat foods."
For all the singles out there: We hope this news doesn't add to your Valentine's Day blues. Because even if you don't have a special someone, you can still benefit from partnering up to get fit. Check out these challenging exercises you can do with a friend while you wait for your future gym partner to come into your life.
Read more: 5 Times Celebrities Reminded Us How Important Workout Buddies Are