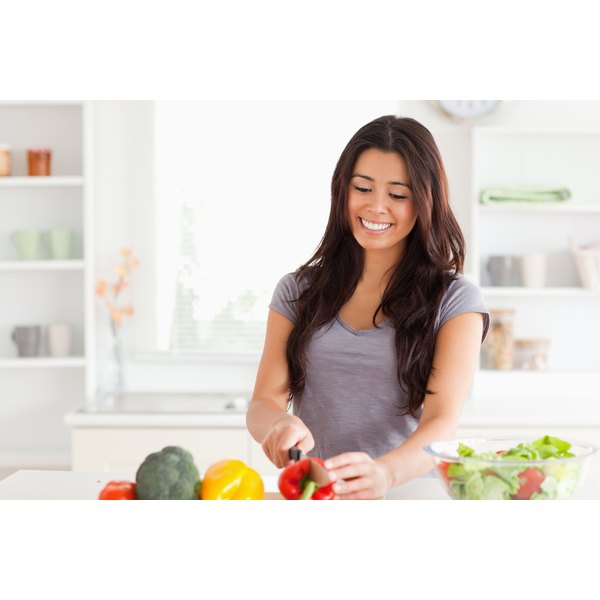 Hair follicles are made of protein, and what you eat can significantly affect your hair's health. While many of the foods recommended to promote hair growth are animal-based, like eggs, lean meats and yogurt, there are quite a few vegetables that can be eaten to increase hair growth, which can be especially important if you do not consume animal products.
Beans
Black beans, kidney beans, pinto beans and many other varieties of beans are high in protein content and derive a significant amount of their caloric content from protein. Hair is made up of protein, so it is important to eat protein-rich foods like beans for hair health, particularly if you are on a vegetarian or vegan diet that does not allow animal products like eggs, fish or lean meats for essential protein.
Broccoli
Like beans, broccoli derives much of its caloric content from protein, which is essential for hair health and growth. According to Leonard Bjeldanes, professor of nutritional science at UC Berkeley, and Gary Firestone, professor of molecular biology at UC Berkeley, broccoli is high in an enzyme called indole, or I3C, which is converted to diindolylmethane during digestion. Diindolylmethane has been shown to inhibit the actions of DHT, a well-known metabolite in testosterone that has been linked to male pattern baldness.
Spinach
Spinach is an important vegetable for hair growth because it is high in protein and vitamin A and vitamin C, which the body uses to produce oils in the scalp, which can help increase hair growth. Vitamin A and vitamin C deficiencies can increase hair loss or lead to brittle, thin hair that does not grow as quickly.
Carrots
Carrots are a source of vitamin A, which helps promote general scalp health. Carrots also play a role in sebum production, much like spinach, and a diet rich in carrots can lead to faster hair growth through healthy sebum production.
Soybeans and Soy Products
Soybeans and soy products are high in omega-3 fatty acids, which are more difficult to come by if you are on a vegetarian diet that does not allow fish like salmon and halibut. Omega-3 fatty acids are made up of three main properties, including ALA or alpha linolenic acid, EPA, or eicosapentaenoic acid and DHA, or docosahexaenoic acid. These essential properties can help to grow hair by increasing hair follicle growth from the inside out while making hair fuller and thicker. Tofu, soy milk, steamed soy beans and soy supplements are sources of omega-3 fatty acids.