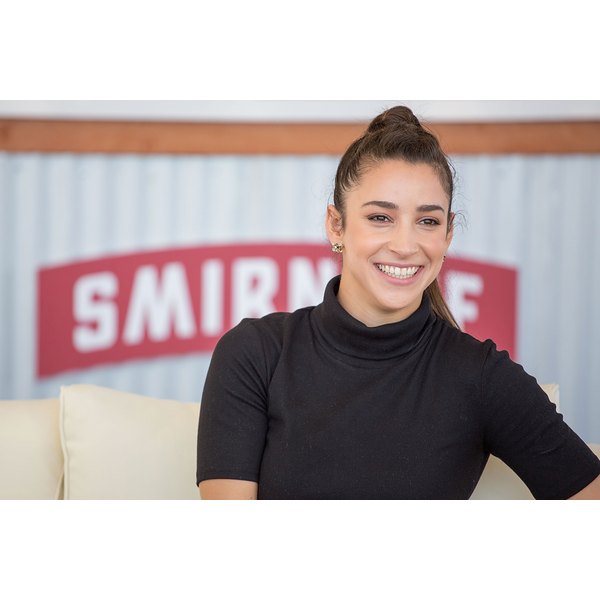 When it comes to body shaming, it seems not even Olympian athletes are exempt from bad experiences. Just ask Aly Raisman.
The three-time gold winner showed off her fantastically muscled physique earlier this year for the Sports Illustrated Swimsuit Edition, confirming yet again that strong is beautiful. But the 23-year-old wasn't always this confident: According to Raisman, she was actually bullied in school for her muscular build, something that negatively impacted her self-esteem for much of her youth.
"In fifth grade, all the boys in my class told me that I looked like I was on steroids or that I was anorexic," Raisman revealed to Today. "And then in seventh grade, I was wearing a tank top at school and one of the boys told me my arms were disgusting. So I didn't wear a tank top to school ever again. Thinking about that makes me so sad because I let one kid affect how I see myself."
A decade, a few gold medals, international fame and several endorsement deals later (including Ralph Lauren and Kellog's), Raisman isn't letting the memory of those childhood bullies get in the way of practicing self-love — and flaunting her fabulous guns.
"Now, I almost force myself to wear tank tops because you have to appreciate your body, and now people compliment my arms all the time," explained the kick-ass athlete. "You can't let someone dictate the way you feel about yourself. It just makes me mad that I was so insecure about it for so long because my arms made me one of the best gymnasts in the world, so I would never do anything to change that." Preach, sister.
In addition to finding self-esteem through her success as a gymnast, Raisman also credits her mother with teaching her the importance of self-love. "My body hero is my mom, because she taught me to be confident and be comfortable in the skin you're in," she said. "Just having someone to talk to, I think, is really important."
Raisman is using her past experiences to empower other women who might be struggling with body image issues or bullying. The epitome of a "strong is sexy" poster girl, she reminds us what amazing things our bodies are capable of doing — and also that nothing puts a bully in their place more than winning at life (and the Olympics)!
"I'm very proud of my body and how hard I have worked to look like this," Raisman wrote in a 2017 Instagram post accompanying one of her beautiful SI shots. "I of course like everyone else have my days where I feel insecure and not at my best. BUT I think it is that much more important we love our bodies and support each other. It is 2017 and there is NO perfect or ideal body type."
These days, there are plenty of high-profile women embracing weight training — from Emma Stone deadlifting 185 pounds to Kate Upton pulling 500-pound sleds and, of course, Gal Gadot putting on 17 pounds of muscle for "Wonder Woman." #Goals.
If you need a little more confidence-boosting inspiration, here are the best celebrity responses to body shaming!
What Do YOU Think?
Are you surprised that Aly Raisman was body shamed? Have you ever experienced the wrath of bullies? How did it impact you at the time and over the long term?