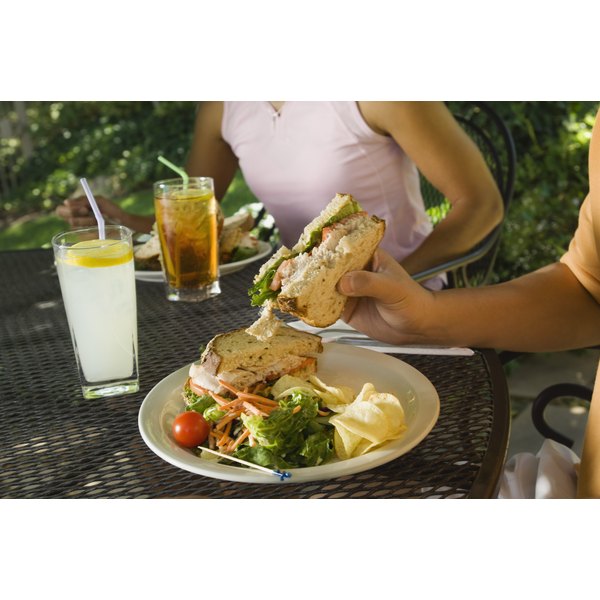 To see those ripped abs you have trained so hard for, you must adjust your diet. Cutting body fat is 10 percent genetic, 10 percent fitness and 80 percent nutrition, says Tosca Reno, author of "The Eat Clean Diet." What you eat is just as important as how much you eat when trying to drop body fat. Eating a diet of fresh fruits and vegetables, lean proteins and unprocessed complex carbohydrates helps your body run more efficiently, which helps your metabolism stay revved.
Lean Proteins
Not all proteins are created equal. Protein is essential for building solid muscle mass and keeping the metabolic rate high, but eating proteins that are high in saturated fat will pack on the pounds. Choose proteins that are lean and provide a higher content of essential fatty acids. Lean beef, chicken, turkey, fish and tofu are sources of lean proteins. Protein should be eaten every two to three hours in a small quantity, according to Reno.
MUFAs
Monounsaturated fatty acids, or MUFAs, are found in nuts, seeds, avocados, olives, oils and dark chocolate. They help the body dispose of fat around the stomach, according to a recent study published in the Journal For Diabetes Care. To reap the benefits of MUFAs, eat a small quantity with every meal. Liz Vaccariello, author of "The Flat Belly Diet" suggests eating 1 tbsp. of oil, 10 olives, 10 almonds or nuts of your choice, 1/4 cup avocado or 1/4 cup of dark chocolate with every meal for a "no crunch required, flat belly."
Fiber
Eating a diet high in fiber will keep your digestive system running smoothly and keep your metabolism optimal, and it may help prevent some cancers and heart disease, according to the American Congress of Obstetricians and Gynecologists. Fiber is found in fresh fruits and vegetables, beans, legume and whole grains. When choosing whole grains look for brown rice, wild rice, buckwheat, Bulgur, whole barley, whole oats and whole wheat. Check labels to make sure the words "whole" or "whole grain" precede the name of the grain. Eating a diet higher in fiber will help you achieve your weight-loss goals faster.
Flax Seed Oil
Flax seed oil is an essential fatty acid that is high in omega-3 fatty acids. Ann Louise Gittleman, author of "The Fat Flush Plan," suggests that flax seed oil should be consumed three times a day to help the body burn fat and regulate insulin levels. When your body's insulin levels are normal, you are less likely to crave sugar and fat, helping cut your calories drastically. Flax seed oil may be consumed in oil or seed form and is easy to add to your foods.