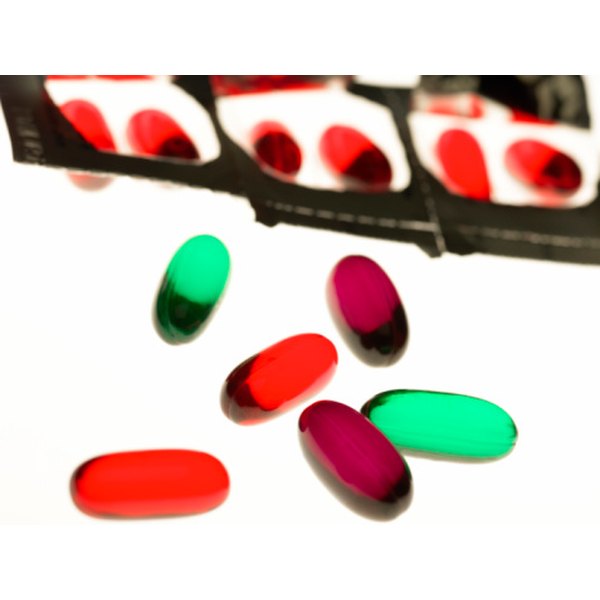 Your regular cold medication has suddenly disappeared from store shelves. Before you panic, ask the pharmacist if your favorite remedy has moved to a new location. Consumers must now obtain cold remedies containing the decongestant pseudoephedrine from pharmacy or store personnel. According to the FDA medications with pseudoephedrine, an ingredient in methamphetamine, must be stored in a locked cabinet. Retailers maintain a logbook listing individual sales of pseudoephedrine to monitor amounts of monthly individual purchases.
Sudafed
Sudafed relieves sinus congestion due to colds, flu, sinusitis and allergies. It reduces swelling and constricts blood vessels in nasal passages.
According to the Sudafed website, the brand offers consumers five adult cold products containing pseudoephedrine. These formulations treat a variety of symptoms and include the following products: Sudafed Congestion, Sudafed 12 Hour, Sudafed 24 Hour, Sudafed Triple Action and Sudafed 12 Hour Pressure + Pain.
Tylenol
Tylenol OTC medications, containing the pain reliever acetaminophen, offer a range of products to alleviate symptoms of cold and flu. However, they sell only two pseudoephedrine cold remedies.
Their website states that Tylenol Cold Severe Congestion and Tylenol Sinus Severe Congestion will remain OTC medications available from the pharmacy counter. Online retailers meeting certain requirements also have authorization from the company to sell Tylenol's pseudoephedrine products.
Advil
Advil, a product line containing ibuprofen, markets two cold, sinus and allergy medications. Their website provides product label information including active ingredients for each formulation. Adult strength Advil Allergy Sinus Caplets and Cold and Sinus Liquigels/Caplets contain pseudoephedrine.
Advil cold and sinus products combine the anti-inflammatory benefits of ibuprofen with a strong decongestant to reduce swollen nasal passages. Advil Allergy Sinus adds an antihistimine to combat hay fever and allergy symptoms.
Aleve-D
Aleve products contain naproxen sodium to reduce inflammation and relieve pain. The brand's website mentions pseudoephedrine as an active ingredient on the product page for Aleve-D.
According to the Aleve-D product description, the caplets provide non-drowsy day relief of sinus pressure, congestion and headache. The Aleve-D product page also includes a notice that the product, located behind the pharmacy counter, does not require a prescription except in Mississippi and Oregon.
Claritin-D
Drugs.com describes Claritin-D as an antihistamine and decongestant taken to relieve symptoms of upper respiratory allergies. Claritin-D contains a combination of loratadine and pseudoephedrine in tablet form.
The Claritin website says this OTC product also temporarily reduces nasal congestion due to the common cold. Consumers can choose from two versions of Claritin-D--a 12-hour and 24-hour formula.