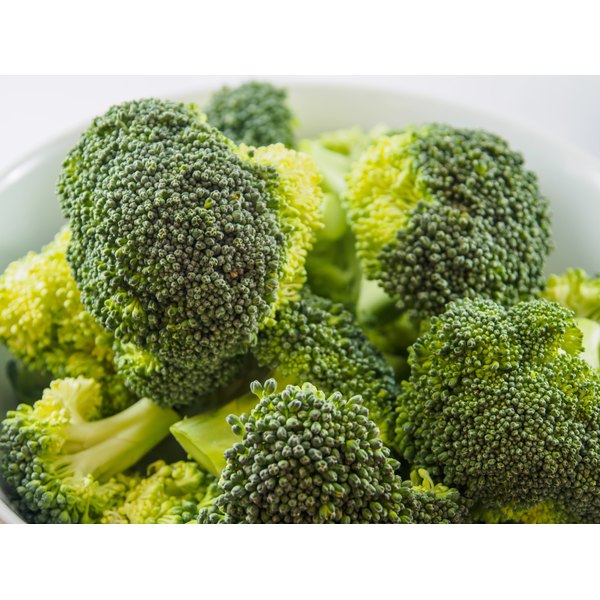 Low-fat foods--and foods that slow your digestive process--burn more fat than do higher-fat foods and foods that are digested quickly. Most vegetables are low in fat and are digested slowly. Vegetables are categorized by their plant family, the part of the plant from which they come and their color. Many vegetables are in more than one category.
Cruciferous Vegetables
Foods with a lot of fiber fight fat because they require considerable chewing and make it less likely that you will overeat by rushing through meals, according to The New Pritikin Program." Your stomach breaks down those foods slowly, and "anything that keeps food intact longer is beneficial for people trying to lose weight," according to The South Beach Diet.
The South Beach Diet cites one food in describing the benefits of a slow digestive process--raw broccoli. Broccoli is a cruciferous vegetable because it is in the mustard family. It is also a dark-green leafy vegetable. It has 0.5g of fat per serving, according to Dr. Dean Ornish's Program for Reversing Heart Disease. Other cruciferous vegetables that have little fat and are digested slowly include brussels sprouts (0.3g of fat), cabbage (0.2g), cauliflower (0.4g), collard greens (0.7g) and turnip greens (0.5g).
Culinary Vegetables
The glycemic index measures how fast your blood-sugar levels rise after you eat a particular food. High blood-sugar levels cause body fat, according to nutritionists such as the late Dr. Robert Atkins and South Beach Diet author Arthur Agatston. This theory means that low-fat vegetables such as carrots, corn and potatoes and low-fat fruits such as bananas and pineapples with a high glycemic index are no longer considered fat-burning foods. Carrots and potatoes have glycemic index scores of 71 and 85.
However, several culinary vegetables have glycemic indexes below 20. They include cucumbers, eggplant, okra, peppers, squash and zucchini. Tomatoes, which have a glycemic index of 23, also cut fat. Scientists regard those foods as fruits because they come from flowering plants, but consumers and nutritionists regard them as vegetables.
Green Leafy Vegetables
You should reduce the fat in your diet by substituting dark-green leafy vegetables for "high-fat processed vegetables such as frozen french fries," according to a "Food Review" article written by U.S. Department of Agriculture (USDA) economist Linda Scott Kantor.
A 1994 USDA survey concluded that Americans ate only about 80 percent of the vegetables the USDA recommended for a healthy diet. The survey also reported that 26 percent of the vegetables consumed were potatoes and 24 percent were head lettuce, processed tomatoes and onions. Only 5 percent of the vegetables consumed were deep-yellow vegetables such as carrots, pumpkins and yams, and only 3 percent were dark-green vegetables.
Dark-green vegetables are particularly good foods for burning fat. They include artichokes, beet greens, bok choy, broccoli, chard, lettuce, mustard greens, romaine lettuce, spinach and watercress.