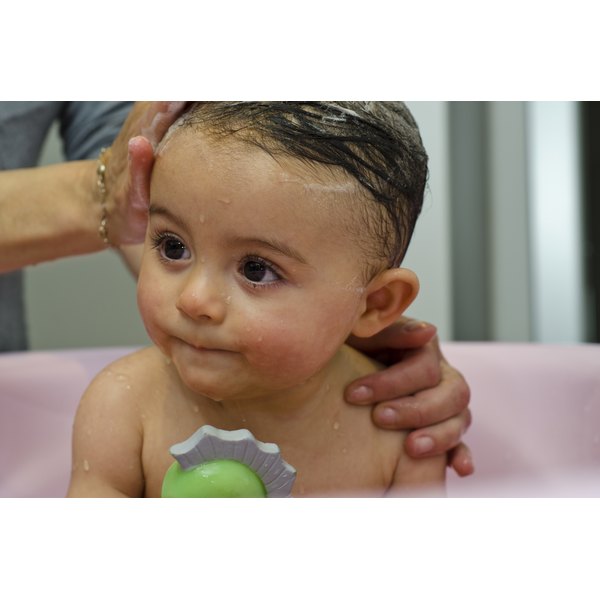 Dandruff is a common scalp condition that results in itching and flaking of dead skin cells. Although it is not contagious, dandruff can be embarrassing for children. Dandruff, even stubborn cases, can typically be controlled. However, it is important to understand the causes of dandruff to rule out any medical conditions.
Malassezia
According to the Mayo Clinic, the excessive growth of a fungus called malassezia can sometimes be responsible for a child's dandruff. Malassezia is always found on the scalp, but it usually does not cause problems. However, sometimes hormonal changes or illness can cause the fungus to grow out of control and irritate the scalp. This causes more skin cells to develop, making the old ones clump together and fall off the head in the form of white flakes.
Eczema
Children who suffer from eczema may be prone to dandruff. The Baby Center website says that eczema is relatively common in young children. In fact, around 20 percent of young children have eczema. Eczema may appear as dry, scaly, cracked skin. It can be extremely itchy and can appear anywhere on the body--including the head. This rash-like condition usually runs in families and can be aggravated by allergens found in the environment or in your child's diet. Although it is not contagious, the intense itching can cause infection if scratched.
Overactive Oil Production
The Children, Youth and Women's Health Service explains that overactive oil glands can sometimes be responsible for dandruff. This typically occurs around puberty, when excess hormones cause the oil glands to produce large amounts of oil. The oil gathers at the base of each hair follicle, causing the tiny flakes to clump together. The flakes appear bigger and become more noticeable on the scalp and clothing. Boys tend to develop more excess oil, causing dandruff to become more noticeable in boys than girls.
Contact Dermatitis
The Mayo Clinic states that sensitivity to hair products, a condition called contact dermatitis, can cause dandruff. This sensitivity can be caused by any hair-care product--from shampoos to hairsprays. Reactions may include itching, flaking, scaling and redness of the scalp. Over-shampooing or over-styling the hair can also cause scalp irritation, resulting in dandruff.