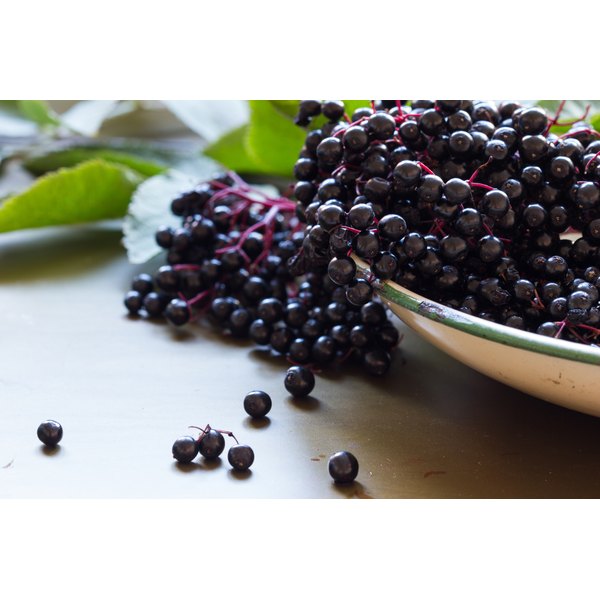 Recalls of over the counter cold, flu and pain medicines and shortages of vaccines and prescription remedies have people scrambling to find relief of their cold and flu symptoms. Double-blind studies of black elderberry extract conducted between 1995 and 2009 show that it is a safe, effective treatment. Its antioxidant effects boost the immune system and its anti-inflammatory properties relieve pain and reduce fever.
Reduces Influenza A and B Duration
Black elderberry extract proved 90 percent effective against influenza B Panama virus within two to three days in a 1995 double-blind study reported in the Journal of Alternative and Complementary Medicine. Israeli researcher Zichria Zakay-Rones conducted the study at kibbutz Kfar Aza. A second 2004 study in Norway confirmed its effectiveness against influenza A. "Symptoms were relieved on average four days earlier and use of rescue medication was significantly less in those receiving elderberry extract compared with placebo," states Zakay-Rones.
Fights H1N1 Influenza Virus
Dr. Andrew Catchpole tested the same elderberry extract used in the 1995 and 2004 studies against H1N1 influenza in 2009. Results of the unpublished Retroscreen Virology double-blind study conducted in London found it 68 percent more effective against H1N1 virus than placebo.
Reduces Free Radical Activity
Free radicals can cause cell death. The U. S. Department of Agriculture examined 12 fruits and found that only chokecherries absorbed more free radicals. Black elderberries absorbed 1.5 times as many as cranberries and more than twice as many as blueberries. "Free radicals are atoms or groups of atoms with an odd, unpaired number of electrons...formed when oxygen interacts with certain molecules," states Caryn Honig, R.D., nutrition consultant and contributing author at Rice University's Sports Med Web.
Reduce Phlegm
You can boil black elderberry flowers with yarrow and peppermint to make an effective expectorant, according to Dr. Bob DeMaria of Healing with Home Remedies. Black elderberry tea reduces phlegm, lowers fever and relieves sore throat pain. Black elderberries should never be ingested raw, only boiled and strained, according to Gregory Tilford, author of "Edible and Medicinal Plants of the West," quoted in The Herbal Quarterly, Summer 2010. The seeds can release hydrocyanic acid when cracked, chewed or ground.