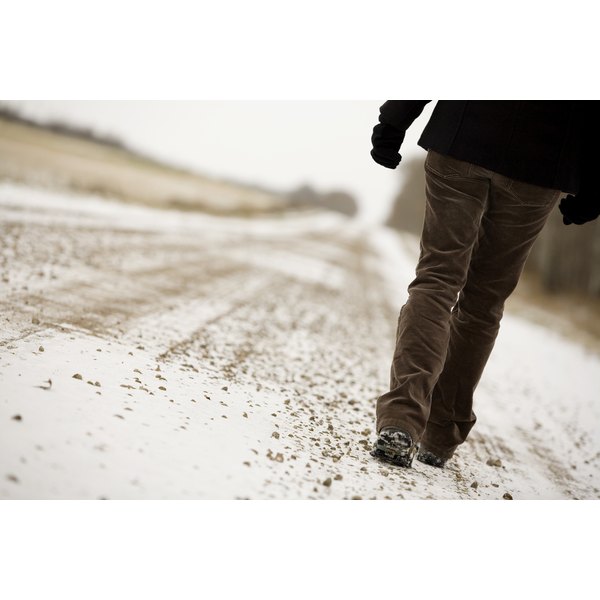 There are many different "walking to lose weight programs." You can choose one or mix and match the components of several programs. Walking is an ideal weight-loss exercise for people who have gained weight from sedentary lifestyles, aging, medical conditions or who lack the time for intensive exercise regimens.
History of Walking
Until the 19th century, walking was not considered exercise. For most, simply keeping enough food on the table was a struggle. Run the World's "History of Racewalking" describes how walking developed as an English sport. Racewalking was imported to America in the 19th century and eventually became an Olympic sport. As the Victorian middle classes gained weight from sedentary lifestyles, walking also became important as exercise.
Benefits and Warnings
An American Association of Retired Persons' web essay, "The Numerous Benefits of Walking," describes the fitness gained from walking. If you walk regularly, you increase your energy levels, elevate your moods, strengthen your muscles, burn calories and lower your risk of getting several chronic illnesses. However, you should check with your doctor before beginning a walking program to insure you choose a walking program that does not aggravate medical conditions. Walking programs exist for many different types of walkers. You can adapt the advice directed to specific populations for your own walking needs.
Older Adults and Walking
The American Council on Exercise recommends walking to improve your health, pointing out that women ages 50 and older who walked 10,000 steps a day lost weight, boosted their moods and improved their fitness levels. ACE has partnered with the American Heart Association to encourage you to join an American Heart Association walking club. Whether you join a club or walk on your own, prepare yourself by choosing good walking shoes, comfortable clothes and applying sunscreen.
African-American Walkers
The National Institutes of Health offer a free pamphlet targeting the concerns of older women seeking to lose weight through walking, "Fit and Fabulous As You Mature." As a woman ages, she tends to gain weight. Overweight women are at risk for developing type 2 diabetes, elevated blood pressure and other illnesses. Walking can head off or reduce the effects of these conditions. If you're bored by the idea of walking for 30 minutes a day, divide your exercise into three 10-minute walks each day. If your neighborhood feels unsafe or has too much traffic, visit a relative's neighborhood or walk through the mall.
Women Walkers
As a woman, you have dozens of programs to choose from, including programs for pregnant women, older women and for those wishing to combine strength training or swimming with walking. A good place to start is the free federal Weight-Loss Information Network's pamphlet for women, "Walking: A Step in the Right Direction." The booklet outlines a detailed nine-week walking program in which you can gradually work up to faster and longer walking sessions. It also offers motivational ideas, such as keeping a walking journal.