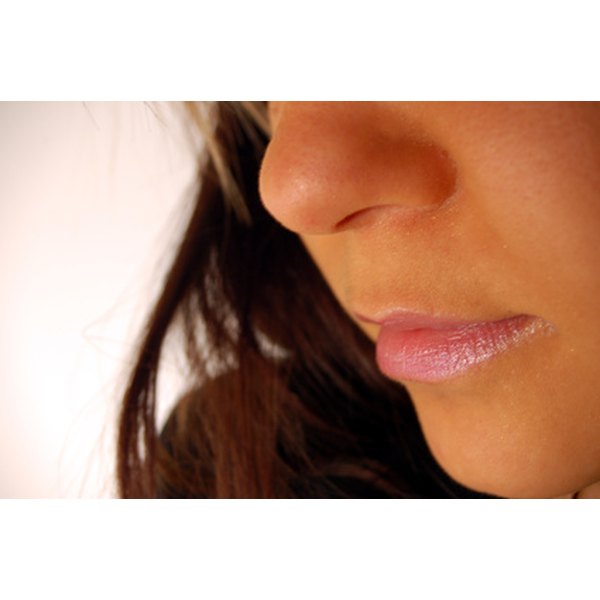 Making homemade lip balm for chapped lips requires few ingredients. According to the "Natural Beauty Recipe Book," homemade lip balm is a good alternative to store-bought lip balm for those who have sensitive skin because it contains no harsh chemicals. Though this homemade lip balm works for most, you may want to see a doctor for medicated balm if your lips are so chapped that they're cracked or bleeding.
Benefits
Homemade lip balm generally doesn't contain the man-made chemical moisturizers that commercial lip balms do, such as petroleum jelly. Because the skin on your lips tends to be sensitive, especially when it's chapped, many people can't tolerate the harsh chemicals and preservatives in mainstream commercial lip balms. Homemade lip balm contains only natural ingredients, and it's far more gentle on your lips and on the planet.
Ingredients
Homemade lip balm contains several basic ingredients. Honey is important because, according to "Better Basics for the Home," it's a natural humectant that draws moisture from the air to keep your lips plump and moisturized. Beeswax gives the lip balm stability. Oil keeps the lip balm spreadable and offers an extra degree of protection. Ideal oil choices for lip balm include almond oil, apricot kernel oil and sesame oil, but grapeseed and olive oil are also good neutral choices.
Recipe
Pour 2 oz. oil and 1/4 oz. beeswax into the top portion of a double boiler. Heat the double boiler over a medium temperature until the wax melts and combines with the oil. Remove it from the heat, and transfer the mixture to a glass bowl. Add 1 tsp. honey and beat the lip balm with an electric mixer until it's creamy. This recipe makes about 1/4 cup homemade lip balm.
Storage
Homemade lip balm is best stored in small batches in a cool, dry place. Buy small jars or tins with tightly fitting lids that hold about 2 tbsp. lip balm, and portion the homemade balm into the containers as soon as it reaches the desired consistency. The lip balm will remain quite soft. Apply it with your fingers.
Customization
You can customize your homemade lip balm by stirring one to three drops of essential oil into the mixture just before portioning it into containers. Popular choices include vanilla, lemon and peppermint essential oils. If your lips are quite dry or you want to make a balm to provide extra protection throughout the winter, break open a vitamin E capsule and squeeze it into the mixture.