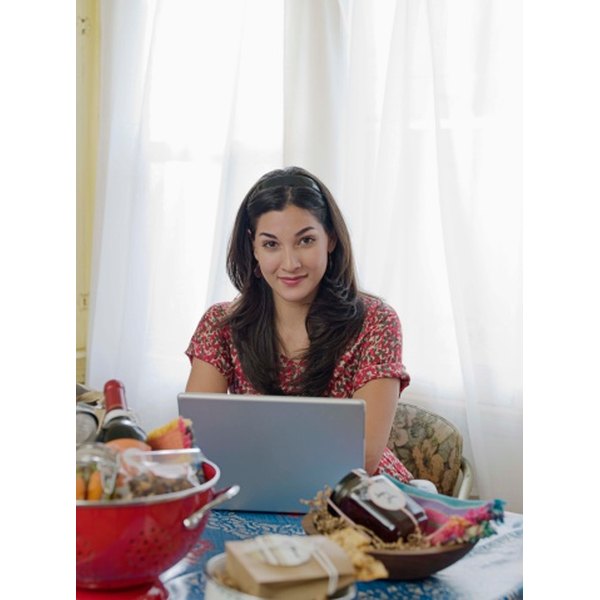 There are a number of weight-loss programs available on the Internet. The Mayo Clinic says an effective weight-loss meal plan includes foods from all of the major food groups. In addition, a diet meal plan should offer foods easily found at the grocery store and should be manageable for any budget, according to the Mayo Clinic. The plan should also provide proper amounts of calories and nutrients for safe weight loss and also should encourage activity. Most free online weight-loss diet meal plans provide basic tools but require some work from the dieter.
My Pyramid
The United States Department of Agriculture's My Pyramid plan uses information provided by the dieter to create a personalized diet plan. The plan includes serving recommendations from each food group using the My Pyramid food guide. The My Pyramid plan provides information about choices from each of the food groups along with portion sizes and preparation suggestions. The My Pyramid plan also allows the dieter to print the diet meal plan along with a tracking form to help with meal planning. The My Pyramid plan offers guidance but requires the dieter to create meals themselves.
Create a Diet
The National Heart Lung and Blood Institute and the National Cholesterol Education Program have created an interactive website called Create a Diet. While this diet meal plan is geared specifically toward people with heart health needs, it can work for anyone. The Create a Diet program offers two plans, the "Heart Healthy" and the "TLC." The "Heart Healthy" plan is a low-fat diet meal plan recommended to help prevent heart disease. The "TLC" plan is even lower in fat and is recommended for those at greater risk for a heart attack. The Create a Diet program creates a calorie-based diet meal plan based on the dieter's age range, sex, height and activity level. The meal plan also includes sodium and fat goals. The dieter then creates meals from a list of portion-controlled food, while calories, fat and sodium are tracked. In addition to the food list and menu builder, Create a Diet also offers tip sheets on eating out, heart healthy cooking and grocery shopping.
Calories Count
CaloriesCount.org is a free online weight loss program. As with the other programs, a diet meal plan is created based on information provided by the dieter. In addition to providing calorie goals, the website also offers free weekly menus. These menus include a grocery list and easy to follow recipes. The program also offers an option to substitute other foods if the dieter is not satisfied with some of the menu offerings. In addition to meals, CaloriesCount.org offers a free online food diary that calculates calories. The site also offers tools and tips for increasing activity.