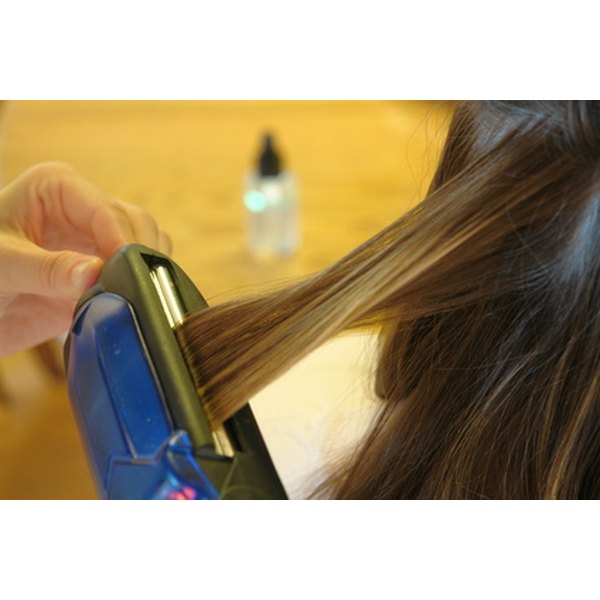 Brazilian Keratin Treatment, also known as BKT or escova progressiva, is a hair-straightening procedure that creates silky smooth hair for up to four months. Although it started in Brazil, the treatment started becoming popular in the United States by 2007. What many women don't know is that BKT treatments use formaldehyde, a potentially toxic chemical that can cause health problems for eyes, skin and lungs and can even lead to cancer.
Cancer Risk
Formaldehyde is classified as a carcinogen by several governmental health and safety agencies. It's been associated with nasal and brain cancer and possibly leukemia, according to the National Cancer Institute. Even if salons take special precautions in applying the BKT treatment, some fumes may be released into the air. Every time a consumer uses a flatiron on the hair, it releases more formaldehyde.
Lung Irritation
Formaldehyde is also a lung irritant. Concentrations of as little as 10 to 20 parts per million can cause difficulty in breathing, burning of the nose and throat and a cough. When concentration levels increase to 25 to 30 parts per million, severe respiratory tract injury can occur, possibly leading to pulmonary edema and pneumonitis. Again, in addition to the original application, every time someone with treated hair uses a hot straightening iron, they'll be exposed to the same risks as when they had the process done initially.
Skin and Eye Irritation
Formaldehyde can cause white discoloration, burning, drying, cracking and scaling when it comes into contact with skin, reports the Occupational Safety and Health Administration (OSHA). Prolonged contact can further lead to numbness and a hardening or tanning of the skin. If formaldehyde gets into the eyes, it can cause injuries, ranging from temporary discomfort to permanent corneal clouding and loss of vision. According to a study published in "Regulatory Toxicology and Pharmacology" in March 2006, mild eye irritation has been observed at exposures to formaldehyde levels as low as 1 part per million.
Unregulated
Brazilian Keratin Treatments are not approved or regulated by the U.S. Food and Drug Administration (FDA) or any other government agency. The Cosmetic Ingredient Review Expert Panel, a group of scientists who set recommended safety standards for cosmetics ingredients, has set .2 percent as the maximum level of formaldehyde in a product to be considered safe. When "Allure Magazine" had BKT samples from various salons tested, the samples had concentrations ranging from 3.4 to 22.1 percent, the latter of which is 100 times the safe level set by the review panel.