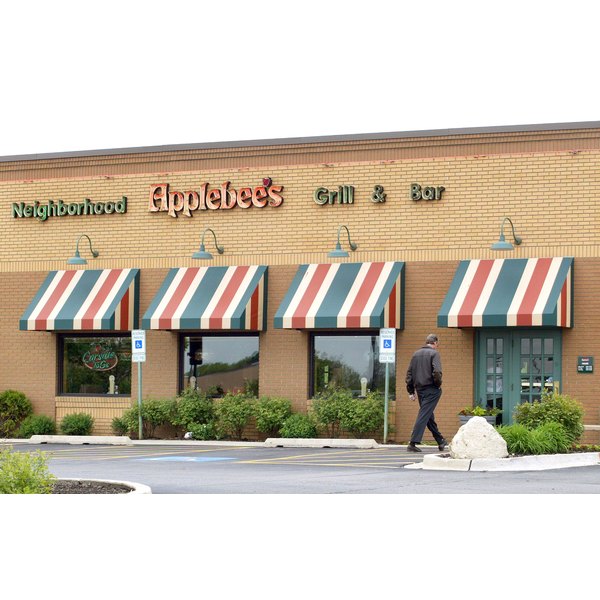 The American Dietetic Association (ADA) says that all foods can fit into a healthy diet, and the offerings at Applebee's are no exception. The key to eating out is to exercise portion control and to allow federal dietary recommendations guide the ordering process. Focus on lean proteins, fruits, vegetables and whole grains, and limit high-calorie foods, fat, sodium and added sugar.
Dietary Recommendations
A healthy adult diet should contain approximately 2,000 calories, 65 g of fat, 17 g of saturated fat and fewer than 2,300 mg of sodium a day, according to the United States Department of Agriculture's (USDA) dietary guidelines. Excessive calorie and fat intake contributes to obesity, heart disease and other chronic diseases. Too much sodium may cause high blood pressure. Balancing diet with physical activity is also an essential part of weight maintenance and good health.
Appetizers
Applebee's appetizers are designed to be shared -- which is a smart idea since many of the appetizers are extremely high in calories and fat. The chili cheese nachos and spinach and artichoke dip both exceed the daily recommendations for fat, at 107 g. Go easy on the dipping sauces that accompany many of the appetizers; the ranch and blue cheese sauces both have more than 200 calories and 23 g of fat per serving.
Entrees
The healthiest entrees at Applebee's are from their "Under 550 Calories" and "Weight Watchers" menus. These offerings are lower in calories and fat, and use healthy cooking methods like grilling and roasting instead of deep-frying. Unfortunately, lower-fat and -calorie entrees are not always low in sodium. The Asian crunch salad from the "Under 550 Calories" menu contains 3,170 mg of sodium. The highest-sodium entrees at Applebee's are the fajitas, which have over 6,300 mg of sodium.
Order smaller portions whenever possible to reduce calories and fat, and avoid extra toppings. Ordering the 7-oz. house sirloin steak instead of the 12-oz. New York strip steak saves 250 calories and 25 g of fat, while the shrimp 'n Parmesan steak topper adds 230 calories and 16 g of fat. The cowboy burger topped with crispy onions, bacon and cheddar has 1,120 calories and 67 g of fat, compared to a regular hamburger that has 770 calories and 46 g of fat. A half-portion of the oriental grilled chicken salad has 550 fewer calories and 35 fewer grams of fat than a regular portion.
Sides
Applebee's will substitute a side salad, steamed vegetables or fruit for mashed potatoes, French fries or onion rings. Steamed vegetables and fruit are low in calories, fat-free and rich in fiber. The USDA says fiber benefits heart health and promotes satiety, which can help prevent overeating. Many of the salad dressings at Applebee's are high in calories and fat, so follow ADA recommendations and order salad dressing on the side to limit consumption. Avoid creamy soups like the baked potato soup, which has 420 calories and 30 g of fat, and order regular French fries instead of chili cheese fries to save 230 calories. The unhealthiest side dish is the chili bowl, which has 540 calories, 26 g of fat and 1,310 mg of sodium.
Desserts
Sugary desserts are highly caloric and lack essential nutrients. The ADA recommends ordering a single dessert for the entire table to share. The lowest-calorie dessert at Applebee's is the hot fudge sundae shooter, at 340 calories and 18 g of fat. The unhealthiest dessert is the chocolate chip cookie sundae, which has 1,660 calories, 82 g of fat and 51 g of saturated fat.