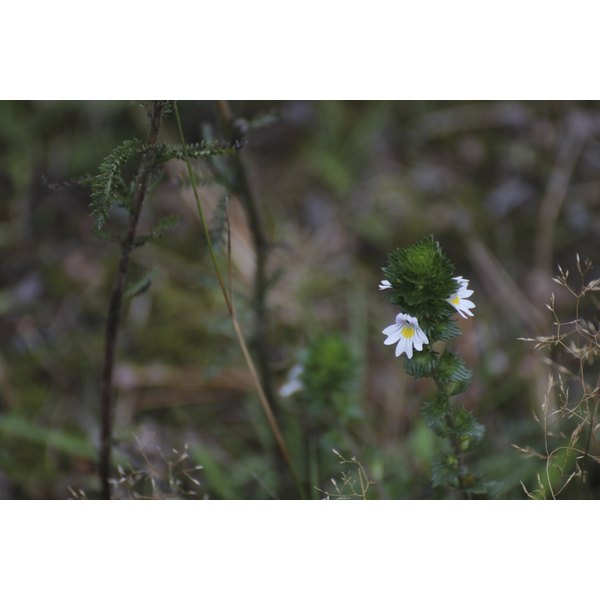 Eyebright is available as an oral herbal supplement and an ophthalmic preparation. The topical solution is most commonly used. Derived from the plant Euphrasia officinalis, eyebright comes in extracts, tinctures and capsules. The ophthalmic preparation is purported to relieve conditions such as eyelid inflammation, sties and pink eye (conjunctivitis). People use the oral remedy for treating respiratory conditions such as bronchitis, runny nose and nasal congestion. Eyebright can cause many side effects, and Drugs.com notes that possible negative effects outweigh the "dubious" benefits.
Reducing Blood Sugar
Oral eyebright may decrease blood glucose levels, according to Healthline. People prone to hypoglycemia should be cautious about using eyebright, as should diabetic patients taking medication such as metformin or insulin to regulate blood sugar.
Eye Side Effects
Eyebright tincture used as eye drops can cause increased eye pressure, redness, watering and swelling, as noted by Flora Inc. Eyebright tincture also has been associated with severe itching (pruritis), vision changes and an inability to tolerate light, according to Healthline. These effects can occur with as few as 10 drops of tincture.
Toxicity
As few as 10 drops of oral or ophthalmic eyebright tincture also can cause toxicity, according to Flora Inc. and Healthline. Symptoms include confusion, dim vision, fatigue, nausea, constipation, sweating, excessive urination, breathing problems, sneezing, coughing, nasal congestion, hoarseness, headache, restlessness and weakness.
Allergic Reaction
Rarely, some people may experience an allergic reaction to eyebright. Signs as listed by the Physicians' Desktop Reference include difficulty breathing, tightness in the throat or chest, chest pain, a rash or hives, and itchy or swollen skin. An allergic reaction to eyebright should be considered a medical emergency.
Eye Infections
Healthline cautions that eyebright formulas may be contaminated with other substances, because the U.S. Food and Drug Administration does not regulate supplements as it does medications. The Commission E, Germany's regulatory agency for herbs, does not recommend using eyebright. People should not use homemade eyebright preparations because they may be contaminated. Because eyebright is not regulated, it may contain substances that can cause eye infections.